You Can Play 'Gears of War 4' as Run the Jewels Right Now
El-P and Killer Mike come out guns blazin'.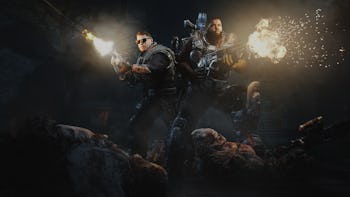 Microsoft
Can't nobody save 'em, but 'em. El-P and Killer Mike, the rap duo known as Run the Jewels, are now playable in the multiplayer modes of Gears of War 4 through the latest paid DLC, Run the Jewels Air Drop. The two rappers are playable Versus Multiplayer and Horde 3.0 avatars, and the pack also includes 18 weapon skins, emblems, and bounties.
Both El-P and Killer Mike have lent their voices and likenesses to the game. Unlike Ice-T, who voiced Aaron Griffin in 2011's Gears of War 3 (and whose metal band Body Count wrote and performed the song "The Gears of War" for the game's end credits), El-P and Killer Mike portray themselves armed to the teeth in COG armor. They also only appear in the game's multiplayer, and do not have a role in the story campaign.
On top of the inclusion of Run the Jewels, Gears of War 4 has also welcomed the return of two popular maps from Gears of War 3, Checkout and Drydock, reimagined to fit the new game's setting. Both maps will be free and are available to Season Pass owners now while the rest of the community will have access on November 8.
The duo's inclusion is part of a promotion for their upcoming album RTJ3, with a full North American tour scheduled throughout 2017.