'Stranger Things' Theme Mixed With Childish Gambino Is Scary Good
A SoundCloud user combined the rapper's track "Bonfire" with the synth-heavy theme.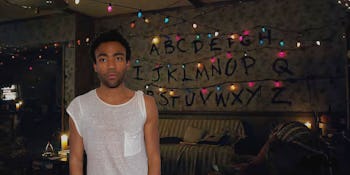 Getty Images/Netflix
Netflix's love letter to '80s horror, Stranger Things, had an appropriately retro (and awesome) theme song. The haunting, tubular synths were a creepy, bonafide jam. Now, just in time for Halloween, some music genius has gone ahead and remixed the theme with a Childish Gambino track.
The original song, "Bonfire," thunders along on a harsh, somber electric guitar riff and a haunting chorus of far-off chanting. It's a dark song, and Childish Gambino, aka Atlanta creator and star Donald Glover, spits fiery, intense verses. It's haunting, and SoundCloud producer kmlkmljkl noticed that the flow and mood of the vocals would go perfectly with the Stranger Things theme.
It's not a totally pure version of the Netflix theme, however. The producer started working with a subtle but effective remix of the track by another SoundCloud user, C418, called "Stranger Think." With few modifications, kmlkmljkl plopped the vocals from "Bonfire" atop the remix to create the mashup, "Stranger Bonfire."
Of course, none of this would be possible without the original "Stranger Things" theme, which was written by Michael Stein and Kyle Dixon of the electronic band S U R V I V E. Stranger Things truly has been a goldmine for great music.
Stream the original version of "Bonfire," and watch the scary music video, below if you're interested.