Netflix Just Confirmed an Official 'Stranger Things' Soundtrack Release
Pure 1980s electronic awesomeness, coming soon.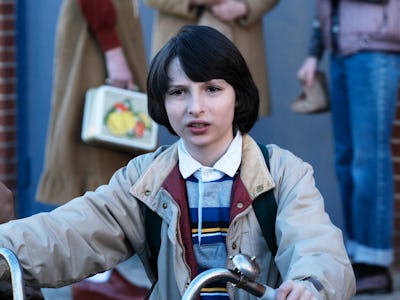 Netflix
Among the endless number of awesome details about Netflix's hit show Stranger Things — the 1980s Amblin vibes, that breakthrough Winona Ryder performance, the creepy-as-hell Guillermo del Toro-esque faceless monster, just to name a few — the best might be the music in the eight-part series.
Since the series debuted on July 15, fans have taken to social media, wondering if Netflix would get around to releasing an official soundtrack. Today, Netflix announced that a soundtrack is indeed coming.
Netflix has released official soundtracks for its original shows before – like Orange is the New Black and House of Cards – so it figures the company would hear the fans clamoring for moody synths, and give them what they want. The streaming service has already released a Spotify playlist of the songs included in the show, like Joy Division's "Atmosphere," The Clash's "Should I Stay or Should I Go," or Toto's "Africa" (RIP, Barb).
But until now, fans have had to just make extended mixes of the excellent opening title song on their own, and then post them to YouTube for fellow fans to enjoy. The tweet doesn't specify a release date just yet, but it's safe to say that the show's score, heavily influenced by spooky electronic horror pioneers like John Carpenter and Tangerine Dream, will work both in and out of context – with or without the show alongside it.
The score was written by musicians Kyle Dixon and Michael Stein, who also composed the 1980s-tinged score for filmmaker Adam Wingard's The Guest and who just happen to be two members in the Austin-based retro electronic band Survive (stylized as S U R V I V E).
In an interview with Noisey, Dixon explained that show creators Matt and Ross Duffer were fans of the band first. "They used a song from our first LP in a mock trailer they made to pitch their concept to Netflix and reached out to see if we were available to score the show," Dixon said. "There was nothing that could have stopped me from taking this job."