'Stranger Things' and the Re-Emergence of Winona Ryder
How the It Girl of the 1990s made her comeback in Netflix's new supernatural thriller series.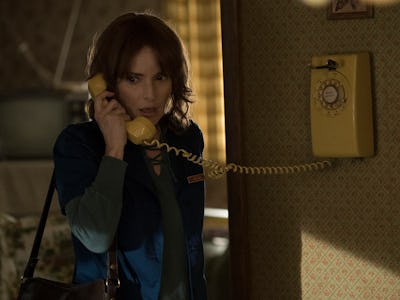 Netflix
Netflix's new series Stranger Things is many things. It's among the best new series to debut this year, it's an homage-heavy patchwork of all your favorite sci-fi genre highlights, it's a worthy Spielbergian supernatural throwback, it's got a slew of unbelievable performances from ridiculously talented newcomers (particularly actress Millie Bobby Brown), and more. But, most importantly, it features a performance that signals the re-emergence of actress Winona Ryder.
In Stranger Things, Ryder stars as Joyce Byers, a single mother whose life is thrown into turmoil when her younger son Will (Noah Schnapp) mysteriously vanishes after a night of playing Dungeons and Dragons with his three best friends Mike (Finn Wolfhard), Dustin (Gaten Matarazzo), and Lucas (Caleb McLaughlin). Joyce, along with the similarly single chief of police (David Harbour), and Will's friends, soon witness a series of bizarre supernatural events occurring in their cozy suburban Indiana town. Secret government experiments, faint voices heard through walls and electrical outlets, inter-dimensional beings, and a telekinetic orphan all add to the amazing and scary proceedings. But at the core of all the spookiness is Ryder.
The actress's child star past is perhaps what makes her performance so earnest, through her Stranger Things character's manic obsession with getting her son back from … wherever it is he's gone to. At 15-years-old, she made her big-screen debut in the 1986 teen dramedy farce Lucas, and with a pair of breakout 1988 performances in Beetlejuice and Heathers, Ryder became a kind of It Girl whose acidic but recognizably angsty teenage personality turned her into a star.
The clout helped her gain traction on-screen and off, first garnering her a Golden Globe nomination for her role as one of two daughters (the other played by Christina Ricci in her film debut) who struggle to move to rural Massachusetts with their single mother (played by Cher) in Mermaids. Then she scored a Best Supporting Actress nomination for her role as upper-class Gilded Age lady May Welland in Martin Scorsese's 1993 drama The Age of Innocence. But it was these safe yet available roles, which symbolically limited her to be seen as the teenage dream or a kind of ur-manic pixie dream girl, that made it seem like she'd never be taken seriously as a grown up actress.
In a 2013 conversation with Interview Magazine, she'd go on to say, "I did have a lot of success and a lot of great opportunities earlier in my career. But I did also have this thing that was sort of happening in my late twenties where, whether it was because of how I looked or because I started so young, even though I was the right age for things, people didn't think that I was old enough."
She'd continue to work steadily throughout the 1990s, pigeonholing herself even further in Reality Bites and even executive-producing the Academy Award-winning film Girl, Interrupted, but never managed to stay afloat at the heights of her early success. Then, in 2001, the dividing event occurred. In December of that year, Ryder was arrested after stealing over $5,000 worth of designer clothes at a Saks Fifth Avenue in Beverly Hills.
Like some kind of backward rebellion against the teen image that defined her early career, it ended up being a drug-induced decision that made her a pseudo-pariah. She avoided jail time, but was sentenced to 480 hours of community service and ordered to pay more than $10,000 in fines and restitution. The case co-opted her into a kind of pop culture grassroots folk hero categorized by the ubiquitous "Free Winona" t-shirts sold at L.A. boutiques at the time. But free her from what?
The painkiller addiction that caused her to engage in such erratic behavior was specifically to blame, but maybe it was also the industry, itself, that brought her to that point. She went into a self-imposed hiatus for four years, telling Vogue in a 2007 cover story, "I never said a word. I didn't release a statement. I didn't do anything. I just waited for it to be over."
But it wasn't until 2009 when, bizarrely enough, she appeared in a small role as Mr. Spock's mother in director J.J. Abrams's Star Trek reboot and then as a once-successful ballet dancer in Darren Aronsofky's Black Swan, that she began to define the second half of her career. She re-emerged from her hiatus to play broken but magisterial mother characters, as if it was some kind of meta commentary about finally learning how to grow up.
It's that kind of delicate motherly tenderness that comes into its own in Stranger Things. In a recent interview with IGN, she attributed her experience early on in her career to this shift. "I was very protective, instinctively," she said of the child actors on-set, "because I saw stuff growing up. I saw kids that didn't want to be there but were pushed in."
It wasn't so much that Ryder was pushed into her acting career early on, just that she wasn't able to get herself out. Stranger Things marks her return, and it only took a role that involves saving her son from an unexplained inter-dimensional demon to complete her comeback.