New Netflix Series 'Stranger Things' Trailer Stars Winona Ryder and the 1980s
The paranormal thriller also stars Matthew Modine and David Harbour.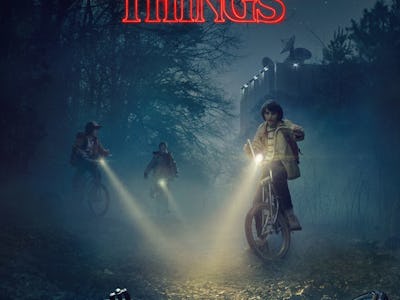 IGN
Netflix has released new art and a trailer for its upcoming original series, Stranger Things. The show is billed as a paranormal thriller and stars Winona Ryder, Matthew Modine, and David Harbour. The show marks Ryder's first starring role in a television series.
Netflix is racking up the hits and is looking to boost its sci-fi cred with Stranger Things The series is set in 1983 and has a strong nostalgia vibe of early Spielberg and other bike-riding, coming-of-age classics of the time. Here's the official description:
Set in Hawkins Indiana in the 1980's, Stranger Things chronicles the search for a young boy who vanishes into thin air under highly suspicious circumstances. His mother (Winona Ryder) opens an investigation into the boy's disappearance with local authorities that unravels a series of mysteries involving top-secret government experiments, terrifying supernatural forces and one very strange little girl. A love letter to the ubiquitous cult classics of the 80's, Stranger Things is a coming of age story for three boys that draws this quaint community into a world where mysteries lurk beneath the surface.
Supernatural forces, creepy kids (with mysterious nosebleeds), bumbling small town cops, government conspiracies… Stranger Things has all the trappings of a classic creepy mystery with a dose of nostalgia. It could potentially be derivative, but the trailer hints that things could get a lot darker in Hawkins. Check it out.
Season one will be released on July 15.