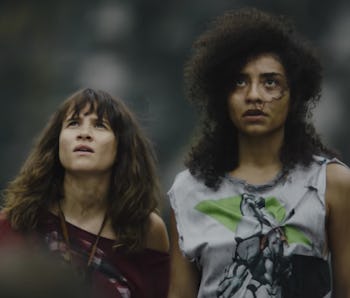 Entertainment
Netflix's '3%' Is a Poverty-Based Version of 'The Hunger Games' 
Netflix
In the world of 3%, your success depends on exactly where you're born. While a small portion of the world enjoys progress and success, much of it exists in poverty and chaos. Those born outside of the privilege of progress have a single chance to prove that they're worthy of living in the de facto "promised land." But only 3% of them will make it through.
A new trailer for the Brazil-based Netflix original series reveals that the selection (called "The Process" by those in-world) is daunting and brutal, consisting of a variety of tasks designed to pit competitors against one another to suss out a winner. From the looks of it, challenges are both physical and mental, and competitors (called "heroes") may have to be willing to completely lose themselves in the process to come out on top.
Ostensibly, these 20-year-old contestants are competing for passage to and a life in a city on an island that isn't plagued by the problems that haunt the rest of this world. It's called the "Offshore," and it's a place with advanced medicine and technology where "nobody is wronged." It's a small island full of clean, fancy buildings that stand in sharp contrast to the aging and decaying infrastructure of the Inland.
But is Offshore really the utopia it seems? Is there really a way to create a place where nobody is wronged? And if competitors fight for a chance to get in, are there some who must leave to avoid overcrowding? Is 3% the rate at which people die, even with the advanced medicine? Is there a way to lose your spot in the Offshore?
We'll find out when 3% arrives on Netflix on November 25.