Everything We Know About '3%' On Netflix Little
Not only influenced by Hunger Games, Netflix's dystopian series '3%' might also be based on Brazil's new reality.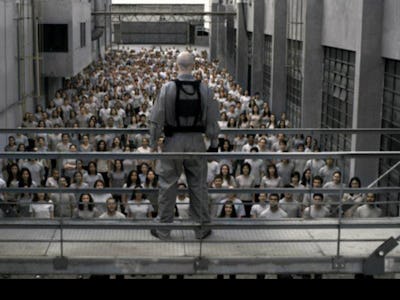 Although Netflix's PR team is keeping cultishly quiet about the release date of its first original Brazilian drama series 3%, a few facts have been revealed. Netflix's streaming services first launched in Brazil in 2011.
Created by head writer Pedro Aguilera, the project is an post­-apocalyptic thriller set in a futuristic and devastated Brazil, where only 3 percent of its 20 year-old applicants — hence the title — are allowed to join a privileged society on the "better side" after undergoing an intense and competitive process.
From the first looks of set photos, 3% appears to take place in a rather sinister, monochromatic dystopia, where the competitors are gathered in a prison-like institution for the selection process, dressed in matching uniforms (with a square cut out of the forearm — to access a skin-imbedded form of ID? I'm just speculating, but check out the pic below for yourself). So it's no coincidence that Aguilera has cited 1984 and Brave New World, as well as the TV series Lost, among his sources of inspiration.
The 8-episode TV series, which has already began production in Brazil, will be helmed by Boutique Filmes and director Cesar Charlone, whose credits include cinematography on 2002's City of God. Executive produced by Tiago Mello, 3%'s talented team also includes Eduardo Piagge as its cinematographer and Valdy Lopez as the art director.
According to production photos posted on 3%'s Facebook page, the weeding out process seems to include interrogation tactics, and even physical combat scenes a la Hunger Games. Actress Bianca Comparato, who stars as Michele — along with her co-star João Miguel as Ezequiel — recently shared a video clip of her martial art training for the dystopian drama on Instagram.
Competition is not only key to 3%'s fictional universe but to the current job market situation in Brazil, where the youth unemployment rate has risen to almost 16 percent.
Director Charlone has commented: "Ultimately, the series questions the dynamics of society that imposes constant selection processes we all have to go through, whether we like it or not."