Behind the Absurdist Chuck Tingle and Zoë Quinn Video Game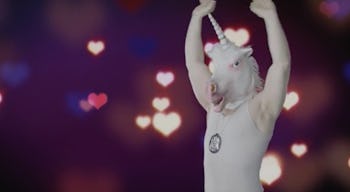 Chuck Tingle
Absurdist author Chuck Tingle and video game developer Zoë Quinn have launched the Kickstarter for their new video game, tentatively titled Project Tingler.
Project Tingler is a planned multi-genre experience that promises to combine classic PC adventure gameplay with dating simulations, all through the eyes of Tingle, who was weirdly nominated for a Hugo award earlier this year. His avant-garde erotica titles include Space Raptor Butt Invasion and Pounded in the Butt By My Hugo Award Loss. The game follows those themes.
While the Kickstarter was launched on Wednesday, Project Tingler short history is well-documented: Earlier in the year, Quinn — who's behind the cult games Depression Quest and Widow's Walk — was profiled by Vice for a documentary. The video game project also predated the April Hugo Awards controversy. In January, Quinn contacted Tingle on Twitter asking the mysterious author to collaborate: "hi hello chuck would you like to make a game with me," was the message that got the project rolling.
The internet is full of zany ideas and personalities, but Tingle is perhaps one of the most compelling in recent history. He made his name by releasing absurd gay erotica through a growing collection of Amazon e-books. The ridiculous storylines and just-as-ludicrous book covers captured the hearts of the weird part of the internet.
Here's a taste of the game:
The Kickstarter funding goal for the project is a lofty $69,420, naturally. In the game, players navigate the "Tingleverse" to prove love is real and get "tingled" in the process. As of Wednesday afternoon, the campaign had raised more than $14,000. The game will be downloadable and playable on PC or Mac.
Tingle broke into the mainstream book world after questions arose over his Hugo nomination (voting is practically public), which was thought to be a stunt by the "Rabid Puppies," a group formed to combat what it sees as a politically correct agenda to make sci-fi more diverse by the industry heads.
That move backfired when Tingle aligned with the greater sci-fi community to turn that nomination on its head by allowing Quinn to accept his award on his behalf should he won during the August ceremony. She has her own history with alt-right culture groups, mainly during the Gamergate controversy when she was heavily harassed.
Eventually Quinn and Tingle outlined potential elements for a future video game collaboration, and he sent her designs for characters, villains, and potential plot points. Together, Quinn and Tingle would go on to develop a video game "about failure." Project Tingler is set to combine the "Tingleverse" — that is, the trademark homoerotic elements that litter Tingle's work — with failed video game concepts like FMV, an antiquated form of using live actors as in-game art assets, common in 1990s video games.
Full disclosure: I was an extra in the filming of this video game but am not otherwise involved.