Newt's 'Fantastic Beasts' Case Contains Entire Habitats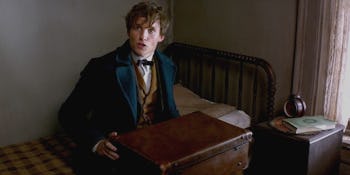 Warner Bros Pictures
Newt's suitcase is taking a page from the TARDIS playbook for Fantastic Beasts and Where to Find Them, and though we knew it was bigger on the inside, it turns out that it's so big that it houses entire natural habitats for the beasts inside.
The creatures in Newt Scamander's suitcase come from far-flung corners of the world, which means that his magical luggage has to somehow accommodate their many different environmental needs. Today Pottermore revealed just how big it really is.
Newt's suitcase is home to snowy landscapes, leafy forests, and dry deserts because in his trip around the world, he's come across dozens of magical creatures that require different habitats, different diets, different seasons and temperatures, and, presumably, different environmental stimuli for things like shelter-building and mating.
In order to keep his beasts alive and healthy, Newt needed a way to give them all the natural elements they're uniquely adapted to, not just cages in the bottom of a suitcase. Enter: the Newtcase.
The mountain-loving Graphorn can't very well share the forest with the Bowtruckles, just as the Nundu and Erumpet, native to Africa, wouldn't thrive in sharing a swampy area with Flobberworms. And so, Newt's suitcase that proves that Hermione's magical extending bag was just the beginning.
Thanks to trailers and Pottermore, we know of a few different habitats that are going to show up in the Newtcase. We know that Bowtruckles are tree guardians and that something that looks like it might possibly be a Jobberknoll nest is in a bamboo forest.
We've also seen the Graphorn standing atop a rocky formation.
And what look to be Mooncalves atop a grassy hill under a full moon.
And a small magizoologist workstation/shed may reveal some more hints about natural areas and habitats. According to Pottermore, "Boots, overalls, and jackets were scattered about, as though Newt Scamander had just stepped out of them. Outfits suitable for every environment you can imagine: Cold and wet, hot and dry, snowy, swampy, sharp, dangerous and unknown."
There are going to be a lot of creatures in Fantastic Beast and Where to Find Them, but thanks to the Newtcase, there are going to be a lot of rich environments, too.
Fantastic Beasts and Where to Find Them arrives in theaters November 18.