Donald Trump's New Nightly Show on Facebook Live Isn't News
It's a slapdash, hard to follow campaign promotion — not Trump TV.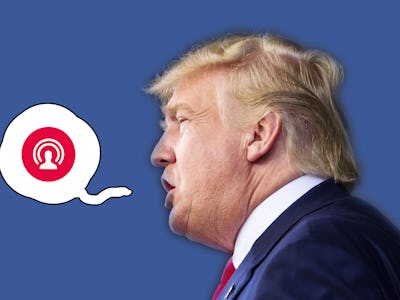 Getty Images
Polls suggest that Donald Trump's presidential hopes are dead in the water, but his Facebook presence is very much alive. On Monday, Trump's campaign streamed the first of its nightly campaign coverage broadcasts on Facebook Live, though the hosts stressed that it wasn't the first episode of a much-rumored Trump TV network.
Boris Epshteyn, a senior advisor on Trump's campaign, and the nominal host of the broadcast, wanted to make it very clear that this wasn't Trump TV.
"That's not what this is," he said. "This is our campaign and most importantly, our candidate, getting out there and speaking directly to the viewer."
"We're excited to be bypassing the left wing media," he added.
Indeed, the broadcast, which was pretty slapdash (at one point the sound cut out because someone, apparently, was trying to use Skype) didn't resemble a news show so much as it was an infomercial. Epshteyn, along with fellow advisor Cliff Sims, and a rotating roster of guests, including campaign manager Kellyanne Conway and The Blaze's Tomi Lahren, largely criticized Hillary Clinton and talked about the Republican nominee in vague, glowing terms.
The show didn't present new information so much as it just casually preached to their most loyal base — and the hosts assumed their viewers had a lot of insidery knowledge of Clinton's alleged wrongdoings, since they just discussed rather than explained her various supposed scandals.
Viewership peaked at around 60,000 viewers, but it dropped below 30,000 after just a half hour of gab. After about 40 minutes, the feed cut to a Trump rally in Tampa, Florida (Trump canceled a scheduled trip to NASA's Kennedy Space Center earlier that day).
Future episodes, if you want to call them that, will broadcast all of his rallies with commentary before and after the events.
Trump's campaign has used Facebook to broadcast live, in this way, once before, when they aired a post-debate recap after Clinton and Trump's final face off. Monday's show, however, promises to be the first of many.
"This is a HISTORIC movement," proclaimed a status update on Trump's Facebook page announcing the premiere. "Together, we will once again make a government by, for, and of the people! Help us close out the final weeks of this campaign strong and WIN."
The message closed, tellingly, by urging viewers to "contribute $10 now."
As a campaign event meant to energize the Trump's most die-hard supporters, maybe the broadcast could be called a success. As television though? Well, let's just say that if this is what Trump TV might look like, it's probably not going to set any Nielsen viewership records.