How to Prepare for the New 'Dark Souls 3' DLC
A quick guide on what you should do to prepare for 'Ashes of Ariandel.'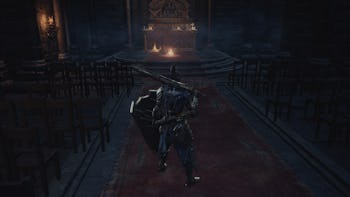 Nicholas Bashore
More Dark Souls 3 content fast approaches with the Ashes of Ariandel expansion, one of two planned pieces of DLC for the game following release. The DLC introduces an entirely new area called the Painted World of Ariandel — filled with dangerous enemies to kill, environments to navigate, and new gear to find. As expected, it also doesn't give you much help, but that's why we're here to help. Here's a few things you can do to prep your old (or new) Dark Souls 3 character for the release.
Reach Level 70
As usual, From Software has designed Ashes of Ariandel to be an experience for high-level characters in Dark Souls 3. This means you'll be fighting tougher monsters, facing more difficult bosses, and, more importantly, finding gear designed for much higher-level characters. As such, you'll want to have the character you plan to use for the DLC at level 70 minimum before you start playing — although I would recommend going towards 100 for safe measure.
Upgrade Your Estus Flask
Due to the more difficult challenges Dark Souls DLC is generally known for, you'll want to make sure you have an upgraded Estus Flask at your disposal while exploring the Painted World of Ariandel. Since the new area is completely foreign, you'll once again be learning how to deal with all the dangers it's hiding within, and that means, well, you're probably going to take a ton of damage. Best be prepared for it.
Level Up Your Weapons
Like in the base game, your current weapons and equipment will have a massive impact on how your character performs in the DLC. Because of the difficulty, you'll want to make sure you have your character outfitted with a good set of armor you're comfortable in, an upgraded weapon or two, and a collection of consumables to help you navigate through hostile territory.
Stock Up on Souls
With every new expansion comes a plethora of new items, armor, and weapons that you'll be able to discover and purchase from new vendors and monsters. As such, you'll probably want to build up a small collection of souls that you can use as currency to purchase new consumables or interact with new NPCs. Granted, you will lose them when you die, but hey, you never know how things might work out.
Complete the Story of Dark Souls 3
In order to play Ashes of Ariandel the moment it launches on your platform of choice, you'll have to complete the base game up to a certain point, which means the further you progress in the story on your character, the better. As is stands currently, you should complete Dark Souls 3 up until you first enter the Cathedral of the Deep. There, at the Cleaning Chapel bonfire, is where the DLC is set to start.