Damian Lillard Is the First NBA Player to Drop a Good Album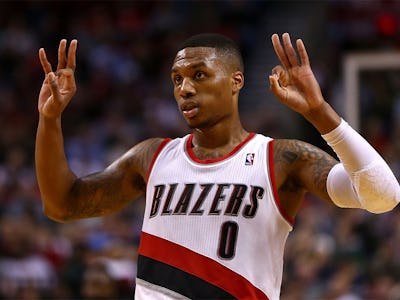 YouTube
Damian Lillard is one of the most talented point guards in the NBA, but that fact evidently wasn't enough for him. Against all odds, he dropped The Letter O this week, cementing his place in history as the first NBA player to drop a legitimately good rap album.
Lillard attended Weber State University in Ogden, Utah, where he finished as the #2 scorer in the school's history with 1,934 points. He was drafted 6th overall by the Portland Trail Blazers in the 2012 NBA Draft. He has averaged 21.4 points, 6.3 assists, and 3.8 rebounds in his NBA career and was awarded the Rookie of the Year award in the 2012-13 NBA season. He dropped a career high 51 points in a game against the damn near unstoppable Golden State Warriors (they blew a 3-1 lead against the Cleveland Cavaliers in the Finals, in case you forgot). With all that being said, the man can ball, and he will undoubtedly go down as one of the best PGs to step on the court.
A lot of NBA players have tried to enter the rap game, and they've all failed to varying degrees — Tony Parker, Jason Kidd, Steve Francis, and even the G.O.A.T., Kobe Bryant. The only NBA player to successfully make a rap album and not be collectively booed by the entire hip hop community was Shaquille O'Neal, and even then, the only thing that spared Shaq was his huge public persona and his affable personality. If the man can make Kazaam and still maintain his positive public perception, then he can definitely get away with a couple of okay rap songs.
When fans got wind of Damian Lillard being able to spin, most chalked it up to another ball player attempting to entertain people with mediocre bars and half-assed songs. In 2013, 4BarFriday.com launched, giving MCs a digital platform to drop quick, four-bar verses. Lillard dropped some bars online, fueling the rumors, but people were still skeptical.
The whole world changed when D' Lil appeared on the Sway in the Morning show in 2015. He dropped a freestyle over Jay-Z's classic Dead Presidents beat, and people lost their minds. He wasn't rapping about any sort of material wealth or being some sort of gangster, as so many ball players have done. He told his real story and dropped authentic rap on the radio. From then, many have been waiting for Lillard to drop a mixtape or an album.
The Letter O, which clearly references not only his Jersey number, but the cities and states that have influenced him in his life and his basketball career, is incredible. Lillard raps under the name Dame D.O.L.L.A. (Different on Levels the Lord Allowed), and his album is far and away the best one released by a basketball star.
The first track, "Bill Walton," has a classic, smooth, rap sound. With lines like, "I'm like a product of poverty and a prodigy / Private school coach said I couldn't / What a hypocrisy," Dame tells you his honest life story. The album plays like an early J. Cole mixtape before he became the double platinum album J. Cole that he is today. The album features famous artists like Marsha Ambrosius, Jamie Foxx, and Juvenile. Perhaps the most stunning feature is from Lil Wayne on the song "Loyal to the Soil." Dame is able to go bar for bar with probably one of the best rappers of the past 15 years, if not ever. If this album is any indication of what is to come, then we can definitely expect great things out of the Oakland-born star.
We'd love to see a track in the future from Dame and Iman Shumpert, the Cleveland Cavaliers ballplayer who also has a knack for rhyming. But, for the moment, we should enjoy this album for what it is. A real rap album from one of the greatest ballplayers of this generation. This is something that we have never seen before. In a feature with Bleacher Report, Dame wanted to make sure that his songs were "segregated from Shaq and Kobe and instead classed with Cole and Kendrick." Of course, he still has some ways to go as a rap artist, but he definitely can be great with the same level of dedication it took for him to become the star ball player that he is today.