Hold Up, 'Ouija: Origin of Evil' Is Actually Incredible
Director Mike Flanagan's prequel had so much going against it, but it's one of the best horror films of the year.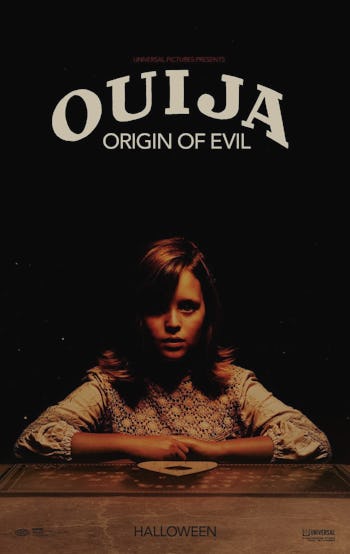 Nobody seemed to be clamoring for a sequel to the 2014 horror film Ouija, and yet here it comes, hitting theaters this weekend. Sure, the original was a big box office success, thanks to the Blumhouse Productions brand and low-budget production model, but Ouija didn't seem to engender the same fan fervor that similar Blumhouse horror successes, like the Paranormal Activity franchise, earned. And the critics absolutely hated it, giving it a net 7 percent positive on Rotten Tomatoes score.
And yet, somehow, Blumhouse's decision to double-down has led to an incredible horror sequel that is infinitely better than it needs to be.
Simply saying that Ouija: Origin of Evil is an improvement over the original would be a slap in the face of that talents of filmmaker Mike Flanagan. The director of genre fan favorites like Hush and Oculus, Flanagan is still one step away from being a heavy-hitting horror auteur, though his deal to make a Gerald's Game adaptation for Netflix might be just what he needs for that to happen. But for now, he's still taking on workingman gigs like Ouija: Origin of Evil and proving he can elevate himself and the work to the next step by making incredible genre films that are better than most. And Ouija: Origin of Evil is better than its predecessor in basically every conceivable way.
It's no small order, and it's obvious that the film had to overcome a load of potential setbacks.
It's a seemingly cheap horror follow-up
Flanagans film opens in 1965 Los Angeles, where a middle-aged widow named Alice Zander (Elizabeth Reaser) lives in an ornate house with her two young daughters, rebellious high-schooler Paulina (Annalise Basso) and innocent Doris (Lulu Wilson). To make ends meet, Alice works as a medium, producing ghosts in scam séances for gullible clients. The period setting placed the film in a time in the past when board games and urban legends enhance the creepiness factor by simply being much more plausible.
The present day setting of the first Ouija movie didn't do it any justice, mostly because it was difficult to imagine contemporary teens pealing themselves away from their phones to even want to play a board game that they eventually find out is haunted. It's an immediate step-up that Origin of Evil has over its predecessor, and the film milks its relatively modest $9 million budget for incredible mid-century production and wardrobe design that drives home the reality of the fantastic events that eventually happen to the Zanders.
Flanagan even added film grain, an old school title card, and cigarette burns to give it a tactile feel as well.
It had to actually be a sequel/prequel
The filmmakers could have approached this story as an anthology sequel, completely unrelated to the first movie. Ouija boards are mass produced after all, so why not just have another family in a previous time period mess with some spirits they shouldn't have messed with?
Instead, Flanagan and co-screenwriter Jeff Howard made the seemingly damning decision to build on the first movie's backstory, but instead of undermining their own film with references to the 2014 one, they respectfully keep details as vague as possible.
The main linking factor here is that the action takes place in the same house where a character played by actress Shelley Hennig finds the titular board at the beginning of the first movie. Other details, like a particularly grotesque hanging, share similarities, but the point is that you definitely don't have to know anything about the original to enjoy what is ostensibly Flanagan's standalone film. It's subtle, but effective.
It's a movie based on a board game
Is there a more thankless task than trying to turn corporate properties into digestible entertainment that doesn't seem like a blatant cash grab? The gold standard so far is The Lego Movie, but Origin of Evil gives that one a run for its money.
While this prequel can seem grasping for relevance at times, it somehow makes an ostensibly boring board game where players spell out words into something legitimately creepy. Flanagan expertly focuses the Ouija board's spiritual shenanigans through Doris, who seems to develop actual psychic powers from the spirits she speaks to. The "demonic child destroying a family" storyline is a well-worn horror trope, but the movie manages to progress from the game to the family story that all comes to a head in a basement scene in the film's harrowing final 20 minutes.
By the time you peer through your fingers after being so afraid, you forget that this all happened because of a board game.