12 Superhero Movies for People Sick of Superhero Movies
Instead of more Batman and Superman, why not Green Hornet and Rocketeer?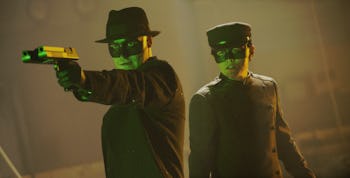 Sony Pictures
With Marvel preparing the third Avengers movie and Warner Bros. ready to unleash Wonder Woman and Justice League, "superhero fatigue" might be settling in. But, just because Batman being on the big screen isn't exciting anymore doesn't mean haters can't enjoy superhero movies ever again.
Even before Marvel ushered in the cinematic universe as Hollywood's new standard, some of the best superhero movies spoofed, subverted, and even challenged the uniquely American genre. If you count yourself out of the hardcore and want something different than what Marvel and DC offer, fear not! We have you covered.
12. The Incredibles (2004)
This list can only begin with, arguably, cinema's best superhero family, the Incredibles. Years before the MCU and Zack Snyder's Watchmen, Pixar took on the Golden Age in The Incredibles, where a married superhero duo forced to step down try (and fail) to live a simple, normal family life.
Aside from a fulfilling story about family and responsibility, The Incredibles is a beautifully animated work that marries modernism with the space age, creating a world Darwyn Cook could have illustrated. You don't need to be a Marvel or DC expert to get sucked into The Incredibles. In fact, it's almost better off for it.
11. Chronicle (2012)
Although its direction as a found-footage movie might be a turn off, Chronicle is a smart as hell, one-and-done story about teenagers who stumble upon a strange relic in the woods that grants them superpowers.
These kids don't exactly become Power Rangers, but when they wield abilities their lives are turned upside down. Heavily inspired by Akira and Carrie, there's no sequel and it's not part of any cinematic universe. It's just a tale about misfits coming to grips with growing up (plus, it's got pre-Creed Michael B. Jordan).
10. Unbreakable (2000)
Back when M. Night Shyamalan was Hollywood's golden boy, he created Unbreakable, which went into deconstructing superhero origin stories without putting Bruce Willis in a cape and cowl.
Without major setpieces and fetishized 9/11 imagery (the film came out a year before the attacks), Shyamalan deeply examined an ordinary father learning to harness his abilities. The film's breathtaking comic book imagery comes out in dreary but sharp color palettes and reflections that mimic panels. Unbreakable wasn't just proof Shyamalan could have been Hitchcock's successor, it also exists as a shining example of how the now-tired genre could be explored.
9. The Crow (1994)
The hype surrounding Brandon Lee's death while shooting The Crow took all the attention away from Alex Proyas's neo-noir in the only era it could have only existed. Made for a modest $15 million in 1994, The Crow was an adaptation of James O'Barr's graphic novel about a rock star resurrected by supernatural forces to exact revenge on his family's killers.
Its killer soundtrack is stacked with '90s grunge rock, and Brandon Lee's Eric Draven is a far cry from any superhero under Marvel's banner. A remake starring Jason Momoa is on the way, but Aquaman will have a hard time living up to his predecessor.
8. The Green Hornet (2011)
Sony hoped the Seth Rogen-led buddy comedy The Green Hornet would launch a franchise. It didn't. In a way, that's a good thing, because more than five years later it stands on its own as a solid action movie with some truly inventive visuals that audiences of the genre rarely get to witness.
Based on the pulp-era superhero who poses as a supervillain, The Green Hornet — from music video and indie darling Michel Gondry — was a blockbuster experiment that tried to marry disparate genres, namely superheroes with Rogen's stoner-comedy brand. It ultimately fails, but not without effort. Scope it for Gondry's visuals and Jay Chou's would-be star role as Kato, who often steals the show from Rogen, and a hammy Christoph Waltz. Rogen and Chou could have been cinema's best oddball duo, but one adventure leaves just about everyone satisfied.
7. Batman: Under the Red Hood (2010)
Yeah, it's Batman, but so what? Batman: Under the Red Hood is an animated adaptation of Judd Winick's Under the Hood comic book, but you don't need stacked longboxes to appreciate the crisp animation and heartbreaking story about betrayal and failed mentorship.
Gruesome without being exploitive, Under the Red Hood is one of the darkest Batman stories ever put to film, and unlike Snyder, it's dark with purpose. For anyone sick of The Dark Knight, this is the most legit Batman movie to see.
6. Hellboy (2004) and 5. Hellboy 2: The Golden Army (2008)
Gothic auteur Guillermo del Toro took a stab at superheroes with Blade, but it's the two Hellboy films where he got to be his best as a storyteller.
Based on Mike Mignola's comic about a demon spawn who works as an agent for the U.S. government's paranormal division, the Hellboy movies were sometimes hilarious, always gorgeous flicks that didn't indulge in the typical destruction of more wide-appealing superhero movies. They are, perhaps, better thought of as modern fantasies than anything Marvel and DC put out.
4. Constantine (2005)
John Constantine isn't a superhero, luv. The British con man whose had run-ins with the Justice League had his own film with the very American Keanu Reeves as its lead in 2005.
While Constantine strayed from key elements that made the Hellblazer comics special, the film nailed the mood, and atmospherics from Jamie Delano, Garth Ennis, and countless others made it memorable. Sure, the film gives Constantine a cheesy weapon (a shotgun carved out of a crucifix) as an excuse for action, but it's all dressing for the moody dark fantasy it really is.
3. Mystery Men (1999)
Just before 2000's X-Men went on to define the modern blockbuster, Kinka Usher's Mystery Men spoofed ensemble superheroes before they were cool for kids at Hot Topic. Although Mystery Men suffers from everything mediocre action movies were of the age, its cast, featuring Ben Stiller, William H. Macy, Eddie Izzard, and Kel Mitchell, help keep it from sinking in the bargain bins at Walmart.
2. Super (2010)
Before he became Marvel's best auteur, James Gunn crafted a post-modern satire in Super, where a hapless loser (Rainn Wilson) becomes a vigilante after his wife leaves him for a sleazy strip club owner (Kevin Bacon). Pairing up with Libby (Ellen Page), an unhinged young girl trying to be his sidekick, they prepare for a final assault to exact revenge.
Super is … dark in a way that's totally different than Dawn of Justice. It's black humor at its bleakest — where you can't help but laugh at the actually horrifying violence these characters act upon each other. No one here is truly redeemable or likable, but it's uplifting ending makes the journey through darkness worthwhile.
1. The Rocketeer (1991)
Before Joe Johnston fleshed out Captain America in a stylized World War II, he gave the world The Rocketeer, an adaptation of Dave Stevens's superhero tribute to the '40s and '50s pulp era. Unique in that it's actually a Disney film, The Rocketeer isn't just a lot of fun to watch (with perhaps the best superhero costume design around), it's also optimistic in the way superheroes of the time were. They were ideals of hope for a better tomorrow, something The Rocketeer succeeds at communicating more than 20 years later.