NASA Will Explain Why Juno's Hit a Snag So Far From Home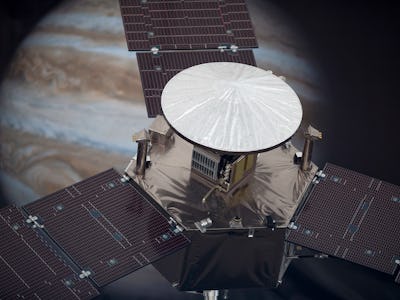 Getty Images / David McNew
When it comes to Juno, NASA is in no rush.
The Jupiter-exploring spacecraft, that arrived at the massive planet after a five-year mission in July, has hit a snag more than 594 million miles from home. Which is why if you care about the Juno mission, as of course you do, you should watch a press conference on Wednesday where the Juno team will shed a little light on an unexpected mechanical problem that arose this week. A set of valves, that are part of the spacecraft's fuel pressurization system, were slow to open.
"The valves should have opened in a few seconds, but it took several minutes," said Rick Nybakken, Juno project manager, in an announcement this week about a delay in the mission. "We need to better understand this issue before moving forward with a burn of the main engine."
The plan was for Juno to start a final engine burn, to slow its orbit around the planet from 53 days to 14, to allow for scientific observation that will ultimately last for 33 orbits of Jupiter. But the maneuver was postponed.
NASA officials are expected to offer a better idea of how serious the malfunction is, and whether NASA is confident it'll be fixed in time for the new target date of December 11, which is Juno's next close flyby.
David Schurr, the deputy director of NASA's Planetary Science Division; Rick Nybakken, Juno's project manager at the JPL headquarters; Scott Bolton, Juno's principal investigator at the Southwest Research Institute in San Antonio; and Candice Hansen, a JunoCam imaging scientist, will update the world on Juno.
Ideally, we'll also get an update on the long-standing issue of how radiation is affecting the spacecraft's various instruments. NASA invested a lot of time and money into ensuring that Juno could withstand the high levels of radiation Jupiter's magnetic field gives off, including the half-inch-thick titanium "radiation vault," to house and protect the instruments. It would be nice to learn if that effort has so far proved successful, or if NASA perhaps underestimated just how corrosive the radiation would ultimately be to the technology.
The Juno spacecraft arrived in orbit around Jupiter on July 4 — after almost 1.8 billion miles — and performed its first close flyby on August 27.
NASA has spent upwards of $1 billion on the mission. It's already cool enough to spawn its own documentary; basically, it's our first real chance to make detailed analyses of the gas giant's atmosphere, which could provide clues to the origins of not just our own planet, but of the entire galaxy.
One NASA official says the delay won't harm the scientific mission, though.
"It is important to note that the orbital period does not affect the quality of the science that takes place during one of Juno's close flybys of Jupiter," says Scott Bolton, principal investigator of Juno, from the Southwest Research Institute in San Antonio. "The mission is very flexible that way."
The press conference begins at 4 p.m. Eastern Wednesday on NASA TV.