Tesla and Panasonic Team Up to Usher in the Solar Era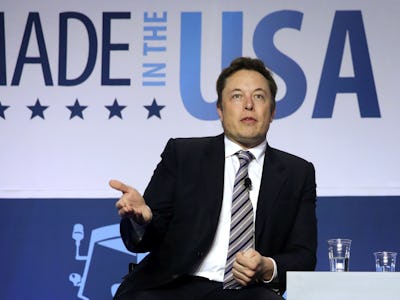 Getty Images / Alex Wong
Tesla announced on Sunday that it will team up with Panasonic to make the photovoltaic cells used in solar panels, if shareholders clear the merger with SolarCity.
The announcement comes just a few days before Tesla and SolarCity are supposed to reveal a roof built entirely from solar panels that connects to Tesla's Powerwall 2.0 battery, and can charge Tesla's electric vehicles. "Aiming for Oct 28 unveil in SF Bay Area of new Tesla/SolarCity solar roof with integrated Powerwall 2.0 battery and Tesla charger," Tesla CEO Elon Musk announced on Twitter last month.
Musk revealed the solar roof project during a call with SolarCity's investors in August. At the time, he said that "solar and battery go together like peanut butter and jelly" in the months since he's reiterated his belief that Tesla and SolarCity are a perfect fit, despite concerns from their shareholders.
Tesla's fixation on solar energy was revealed even earlier than Musk's plan for solar roofs: The company's been hyping it since it shifted focus to "energy" in July. There are many alternatives to fossil fuels, but for Tesla, solar leads the way.
Panasonic was chosen to provide the PV tech for these solar panels because its modules are some of the best around, according to PV Magazine, a trade publication focused on the PV industry. The modules are said to be efficient, durable, and capable of producing lots of energy.
If Tesla convinces people to replace their roofs with solar panels — hurricanes be damned — it's going to need efficient and weather-resistant PV modules. Partnering up with Panasonic, and tapping into its 19 years of experience designing these technologies, will make it easier for Tesla to focus on its areas of expertise, like batteries.
Of course, all of this depends on Tesla and SolarCity actually merging. Shareholders are set to vote on the merger on November 17. If it goes through, production of Panasonic's PV tech for Tesla's solar roofs will begin some time in 2017. Then we can all live in the shadows of Musk's solar-powered roofs.