The 'Jessica Jones' Spinoff 'Hellcat' is 2016's Best Comic Book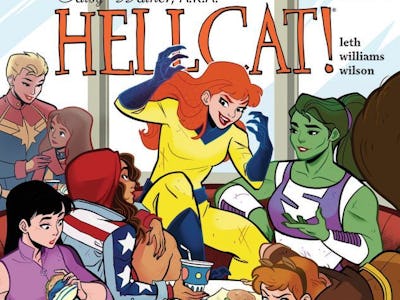 Marvel.com
Fans fell in love with Patsy "Trish" Walker when she appeared in Netflix's Jessica Jones — and her depiction in Marvel's latest line of comics is just as great. The Patsy Walker, AKA Hellcat! comic series gives her a depth and personality we didn't get to see before. Basically, the book is total catnip (sorry).
Jessica Jones, like the rest of Marvel's Netflix extravaganza, delves into darker themes. But Patsy Walker, AKA Hellcat! — part of the All-New, All-Different Marvel line — introduces us to a more classic side of Patsy that we didn't get to know in JJ. But, don't worry, our favorite dusky, troubled, superpowered P.I. certainly makes an appearance.
For those of you with little Hellcat know-how, here's a quick history lesson: Patsy Walker started out as the subject of a teen romantic-comedy series in the 1940s (which is super meta if you'll recall Trish's backstory in Jessica Jones), but she eventually got dragged into the world of The Avengers in the '70s. Fast forward to the 2010s: Patsy's befriended the lawyered-up She-Hulk and works as a private investigator for She-Hulk's firm.
That's where Patsy Walker, AKA Hellcat! starts out: with the upbeat, quick-tempered, but always adorable Patsy getting fired from her job as an investigator because She-Hulk can't afford to keep her around.
We won't spoil what happens in the series — because that would just be cruel and unusual punishment — but just know that it's fantastically done. Toss together a positive lead heroine, a cast of diverse (and heavily female-oriented) characters, and a light-hearted sense of humor with a heavy sense of justice, and you'll arrive at Patsy Walker, AKA Hellcat!.
Be on the lookout for older Marvel villains such as Arcade (and his "Murderworld" carnival traps), as well as other blasts from the past, America Chavez, lots of unnecessary cat jokes, hints at a dark past, open and friendly discussions about sexuality, the difference between making a mistake and being a villain, and friendship. Lots of friendship. And so much more.
And, of course, we can't forget our surprise guest: Jessica Jones! That's right. Hellcat! gives us a chance to watch Jessica and Patsy's relationship develop in a whole new way, and it's equally as wonderful this time around.
Be on the lookout for Patsy Walker, AKA Hellcat! #11 on October 19.