Marvel's 'Great Lakes Avengers' Are Bizarrely Hilarious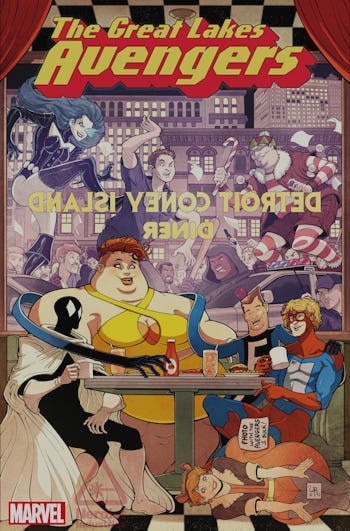 Marvel Comics, Will Robson
The Midwestern versions of the big-city Avengers are, well, they're a bit weird.
The Great Lakes Avengers — a slightly off-color, wackier version of your favorite Marvel superheroes — are back together in the brand-new Great Lakes Avengers #1.
The Great Lakes Avengers are a newly minted, official Avengers franchise organization based in the Great Lakes Area, and headquartered in Detroit, Michigan. They're led by scientist Dr. Val Ventura, aka Flatman. His abilities include off-putting science skills, like the ability to stretch his body as far as he wants, but only if it's flattened first. He bears a striking resemblance to Mr. Fantastic. Apparently, he filed to trademark the Avengers name around the same time as Stark Industries. Due to some legal troubles at the company, the patent office reverted the trademark to Ventura who was the only other person to have filed for the name.
So despite the team being disbanded once before — and losing their most talented and high-profile member, Squirrel Girl, to the actual Avengers — the Great Lakes heroes are trying for a second chance.
Joining Flatman in Detroit are plus-size supermodel and weight manipulator Big Bertha, who changed her legal name from Ashley Crawford to help her "brand"; and Doorman, whose Spider-Man-esque costume has nothing to do with his abilities of turning his own body into a living door (and moonlighting as the angel of death for cosmic gods).
Here's the thing about Great Lakes Avengers #1: It's great. Think about it this way, the Great Lake Avengers are a superhero team that wanted Squirrel Girl on their side before anyone else did. That's a club worth joining if you ask me.
The first issue is still holding some details close to its chest, such as the fate of the team's former leader Mr. Immortal (his powers are exactly what it says on the label) and the strange superpowered weirdness happening in Michigan, like the appearance of a werewolf girl who can transform into her own furry fan art.
All-in-all, it's a great, humorous book that looks to be a the perfect counterweight to all the drama happening in Civil War II right now. No stories about Spider-Man murdering Captain America here, just good, wholesome, midwestern fun.
The Great Lake Avengers #1 is available now in comic stores and online.