U.K. Politicians: Govt Is Not Prepared for Robot A.I. Future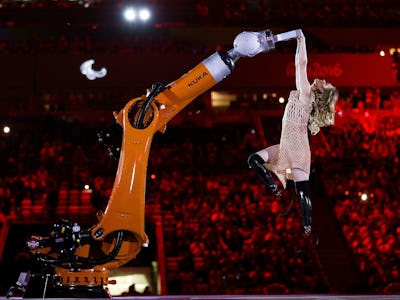 Getty Images / Hagen Hopkins
The British government has been slammed for failing to respond to the coming advancements in robotics and artificial intelligence (A.I.), changes that will have a far-reaching impact on both the country and world. The science and technology select committee, a group of 10 members of parliament (MPs) that scrutinizes the government's science policies, warned on Wednesday that not enough is being done to prepare for the social and ethical issues that will arise from robots and A.I.
"Artificial intelligence has some way to go before we see systems and robots as portrayed in the creative arts such as Star Wars," Dr. Tania Mathias, interim chair of the committee and a Conservative MP, said in a statement. "But science fiction is slowly becoming science fact, and robotics and A.I. look destined to play an increasing role in our lives over the coming decades."
As technologies progress, British politicians are slowly growing fearful that a complacent response could cause mass social upheaval if not properly managed. Labour MP and innovation spokesperson Jon Trickett warned at his party's conference last month that "we will have to make [technology] our servant," while Conservative MP and Brexit secretary David Davis told his party's conference that manual laborers are being replaced by robots.
The committee wants a commission on artificial intelligence established at the Alan Turing institute, the national data science center created in 2015 to research future technologies. Dr. Mathias recognized the Partnership on A.I. founded last month by Google, Facebook, Microsoft, IBM, and Amazon to formulate A.I. ethics standards, but warned the government needed to come up with their own response.
"Concerns about machines 'taking jobs' and eliminating the need for human labour have persisted for centuries," Mathias said. "Nevertheless it is conceivable that we will see A.I. technology creating new jobs over the coming decades while at the same time displacing others."
The committee wants to see better plans from the government about how it will equip the future workforce with skills for the forthcoming changes. The sentiment has been expressed previously by committee members: Carol Monaghan, Scottish National Party MP and education spokesperson, said in January that there aren't enough science teachers to train up kids for new technologies, particularly if the U.K. wants to play a big role in space travel.
"Since we cannot yet foresee exactly how these changes will play out, we must respond with a readiness to re-skill and up-skill," Mathias said.