The UK's Labour Party Is Terrified of a Robot Automation Future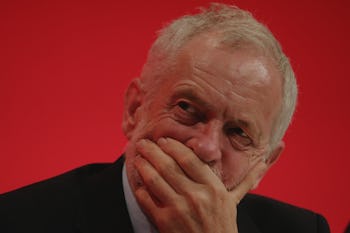 Getty Images / Christopher Furlong
Politicians need to act before robots take over and cause mass unemployment, a representative from the UK's major center-left party has warned. Speaking at the Labour annual conference on Monday, the party's innovation spokesperson said that thousands of jobs are threatened by automation, and changes in society are set to accelerate.
"Technology can either be our master or our servant," Jon Trickett, the party's shadow secretary of state for business, innovation, and skills, told the New Statesman. "I think we will have to make it our servant."
The rapid shift in workforce spells big shifts for economics, society, and politics. Founded in 1900 as a way of giving parliamentary representation to the trade union movement, Labour's roots lie in giving workers a voice. Automation can affect a number of industries Labour has traditionally sought to represent, with Stardock CEO Brad Wardell estimating that 50 percent of the U.S. workforce is in industries vulnerable to automation like factory work, construction, transportation, and healthcare. These innovations will spread globally, and Labour is worried it needs to find solutions to the coming upheaval before it's too late.
"We have got this innovation process which is about to accelerate. I think thousands of thousands of jobs are under threat," Trickett said. "It is literally about to happen." His fears have been echoed by senior party figures like Yvette Cooper and Chuka Umunna.
What this means for tangible party policy is unclear. One regularly floated policy is that of a universal basic income, which would mean people working fewer hours would see less of an impact on their take-home wages. Shadow chancellor John McDonnell has signaled the party is looking at the idea, but has made no pledges that it will be implemented.
However, Trickett warned that the party is unlikely to benefit from blindly fighting against robot automation. "I think it's important we don't become Luddites, because this can emancipate people from the drudgery of labour, but at the same time it is important people are not left on the scrap heap," he said.