Will Alt-Right Hero Milo Yiannopoulos Buy 4chan?
The bleach-blond troll is in talks with the current owner.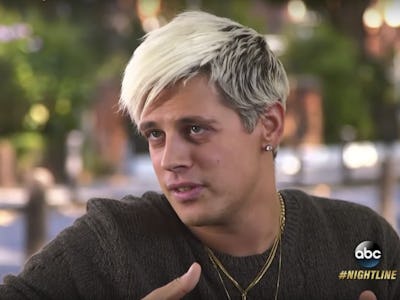 YouTube
Breitbart Tech Editor and infamous internet troll Milo Yiannopoulous might be swooping in to save 4chan. Yiannopoulous, along with a wealthy backer, has expressed interest in making a bid for the anonymous image-based message board according to its current owner, Hiroyuki Nishimura, who posted about the development then deleted said post. It's public knowledge that 4chan has had money problems and the match does make sense — both Yiannopoulous and 4chan are connected to the rise of the alt-right — but it would certainly stir controversy if the deal went through.
It's unclear if 4chan would change under a Yiannopoulos regime. The site is already the unofficial home of the alt-right and is full of hateful rhetoric and racist/anti-semitic/misogynist memes, many of which seem to reflect Yiannopoulos's personal ideologies. The conservative activist is also — for better or worse — all about uncensored content. Yiannopoulos told The Hollywood Reporter, "As a free-speech fundamentalist and a student of internet culture, I appreciate how fragile and precious the 4chan ecosystem is and how much it gives to the wider internet — even if some corners of it, such as /pol/, don't always approve of me very much."
The bleach-blonde troll might also need a new outlet.
Over the summer, Twitter permanently banned Yiannopoulous after he harassed actress Leslie Jones on the social network. He also came under fire after The Daily Beast revealed the money he collected for scholarships to be given to white men was still sitting in his bank account. In September, LGBT magazine Out published a cover story on Yiannopoulous since he identifies as gay, but the media outlet was skewered by the community for giving Yiannopoulous a soapbox from which to shout hateful rhetoric.
This is all to say that Yiannopoulous, who is used to playing the villain, might be the hero 4chan deserves.