The Best Last-Minute, Low-Effort Halloween Costumes for Nerds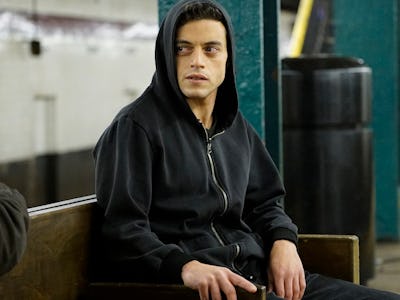 tribzap2it.files.wordpress
We all tell ourselves the same lie at the beginning of every October: "I have plenty of time to figure out a Halloween costume!" Wrong. Before you know it, it's the week before Halloween and you're scrambling to find the perfect getup.
Fear not! A good Halloween costume doesn't have to be a pre-packaged, $90 thing that smells like burning plastic from your local costume shop. Some of the best — and smartest — costumes are the ones that you come up with in the heat of your desperation while brainstorming at the last minute. It's Halloween, you guys; have fun with it!
Plus, there's no better time to be a pop-culture nerd. Shows like Game of Thrones have taken high fantasy and made it into mainstream fun, so feel free to take inspiration from your favorite characters and subtle jokes. Below you'll find a list of relatively simple, last-minute Halloween costumes that guarantee minimal effort for maximum compliments on the greatest night of the year. Go forth and be spooky!
The Ghost of Ramsay Bolton (Or, Like, Anyone's Ghost, Really … )
What character death spoke to you most this year? Ramsay Bolton on Game of Thrones? Lexa from The 100? Denise on The Walking Dead? Pick a dead character's most memorable attribute and grab a white sheet just like your mom always used to suggest. Cut a hole for the head and wear the sheet poncho-style while sneaking up behind people and yelling "boo!" There's bonus points in it for you if you can perfectly match Lexa's iconic, dripping war paint, or smother your neck in some easy-to-find fake blood and carry around a stuffed Pomeranian all night to emulate Ramsay's demise.
Podcaster
Podcasts are a pretty big topic this Halloween, what with Lore getting picked up by Amazon for a TV series. There are plenty of spooky podcasts out there, and if you want to go more detailed with this costume, feel free. But for the simple side of things, grab a large pair of headphones (that you, hopefully, already own) and some sort of recording device — new, old, microphone, hand-held recorder (it really doesn't matter). Speak into the recording device all night and pretend you're documenting the party you attend for your latest podcast. The best part: You get to wear your normal clothes.
Supergirl/Superman
It's a bird! It's a plane! It's a person in regular clothes and a Super-symbol shirt below their normal shirt!
Both Supergirl and Superman have pretty regular wardrobes when they're hanging around and working in media as Kara Danvers and Clark Kent, respectively. And these costumes are even simpler if you have glasses to wear, too. Deck yourself out in the kind of outfit Kara or Clark would wear to work every day, but make sure your shirt is a button-up and keep it halfway open all night to reveal your superhero costume. Keep your hair down like Kara or get that perfect single curl like Clark to really sell that mid-transition look.
Karl Becker and Ken Bone, National Heroes
These two "undecided voters" won over America during the second Presidential debate in St. Louis. Easy to emulate, but never to be replaced, Karl's button-down and Ken's red sweater have become as important as the men themselves.
The final touch is to talk about the environment all night if you're being Ken and to demand that everyone get along at the party if you're Karl. You can also just walk around asking people to compliment one another for the latter fella, too.
Concerned Westworld Guest Who's Just Not That Into It
Grab your best dust-colored blazer and symbolically heavy-handed cowboy hat. Really, anything you can throw together to look even mildly like you belong in a black-and-white Western will do the trick.
Westworld is filled to the brim with horrible people doing horrible things to robots. But you know there's got to be a whole host of people like William who just don't get this whole "do whatever you want without consequences" thing. Wear your cowboy hat that you "kept" from your latest trip to Westworld and recount the horrendous things you saw from when you were there. People are, after all, the worst kinds of monsters.
Snapchat Filters/Lenses/Whatever They're Called
Follow in the footsteps of everyone else and transform into your favorite Snapchat filter for Halloween. Honestly, there have been some great ones since Snapchat introduced us to these wonderfully epic time-wasters. And because there are so, so many, you and all your friends could go as a Snapchat lens squad.
Invest in some makeup, jewels, and various fabrics to make floppy puppy ears from. Or even draw a grid of white lines on your face to go as the starter image.
Identity Thief
This one's an oldie but a goody. Dress as you normally would and acquire a ton of those obnoxious sticky name tags they made you wear for college orientation. Write out some names, and stick them all over your clothes. Boom! Instant Halloween costume.
If you've got a slightly longer amount of time to be creative, wear all black and get a mask and a black beanie look like the true dastardly villain you are.
(Author's note: Identity theft is punishable by up to 15 years in prison. Please don't actually steal anyone's identity for Halloween.)
Elliot from Mr. Robot
Either pull an all-nighter right before Halloween (please don't) or smear some makeup under your eyes to make those bags extra prominent — everyone's favorite hacker always looks ready to pass out from exhaustion at the drop of a hat.
Elliot Alderson's uniform of a dark hoodie and equally dark jeans is simple as can be. And if you have an old computer bag lying around, hook that over your shoulder and skulk in dark corners at parties. Rami Malek's impressive jawline isn't included — you're on your own for that one.