The Top 10 Scary Podcasts to Get You in a Spooky Mood
For your listening pleasure (um, horror).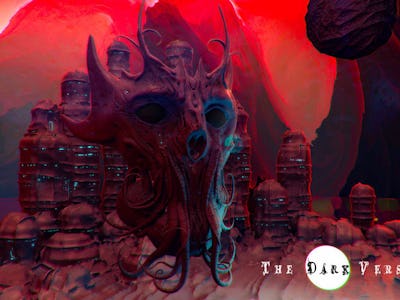 thedarkverse.com
The Halloween season and the announcement that beloved horror podcast Lore is getting the TV treatment got us thinking about podcasts that make us jump when someone walks into the room unexpectedly.
And there are a lot out there. Finding good, comprehensive pod recs can be a challenge, especially when you're looking for something so specifically chilling. But the Halloween season is here, and it's time to start queueing up stories that'll scare the living daylights out of you.
Below, you'll find a diverse list of some of the most haunting podcasts out there. Included with each is a review from iTunes and a link to the best episode to start out with. So, whether you listen on your commute or while working out or perhaps in a dark room lit with only a single flickering candle, these are for you.
Disclaimer: Please don't blame us if you're masochistic enough to listen to these while trying to fall asleep. If you toss and turn all night, it's entirely your fault.
10. My Favorite Murder
Hosts Karen Kilgariff and Georgia Hardstark share fascinating true-crime stories like the self-aware, awful people they are.
"A great podcast for people who love crime stories, but feel they can't bring up murder cases to friends without looking insane." — Annfriedrice
"Do you love crime and morbidity but fancy yourself a nonetheless upbeat and amusing, well-adjusted human? You've come to the right place!" — thineownself
File Under: Dark humor
Best Starter Episode: Episode 6, "Stay Sixy"
9. Criminal
True stories about crime featuring the committers, the wronged, and everyone in between.
"This show takes crime and elevates it through powerful stories that engage our sense of musicality and drama. Great subtle host work and engaging narratives." — CP1270
"Great, tight writing; interesting and compelling stories; beautifully and creatively reported. I can barely wait for each episode to come out." — Bbgoat8
File Under: People are the worst monsters
Best Starter Episode: Episode 6, "We Lost Them"
8. Limetown
A surprisingly fictional podcast about a journalist investigating the infamous disappearance of an entire research facility.
"So I know this is labeled as fiction, but this podcast was so believable and sounded so real that I found myself Googling it in the hopes of finding out more about what happened to Limetown." — tuna_tunic
"I have literally listened to the first episode of this podcast 4 times, and I hear something new each time." — Iconicelli
File Under: Too real
Best Starter Episode: "Episode 1: What We Know"
7. The Black Tapes
Do you believe? This serialized docudrama follows a journalist's haunted search for the truth behind her enigmatic subject's past.
"Its refreshing Serial-esque storytelling method lends the show a realism that's consistently engaging, almost in a found-footage horror kind of way." — Dude-o-matic
"What a well done show. Sends shivers down my spine while listening. I seriously love it. It's addicting." — Rachel Evans yo
File Under: Mystery
Best Starter Episode: Season 1, Episode 1
6. We're Alive
A zombie tale that goes from 0 to 60 in an instant. It throws U.S. Army Reserve soldier Michael Cross from college into street riots and beyond.
"The subject matter alone is rarely done well in radio drama. They nailed it! Download and listen immediately." — Rory_Storm
"I am a huge Walking Dead fan, but We're Alive sucked me in even more! I didn't think an apocalyptic audio drama could ever be as good as watching one, I was so wrong." — samanthafrederick
File Under: Zombies!
Best Starter Episode: "Chapter 1 — It Begins — Part 1 of 3"
5. Anything Ghost
The title card may be cheesy, but this podcast's mix of stories from callers, emails, and local legends is sure to have you believing everything you heard around the campfire when you were a teenager.
"Everything is so right about this show: the stories, the music, the mood. May it go on for a long time." — Bill in Rockwall, Texas
"Lex presents his eerie compilations of spooky stories that will truly make your skin crawl. Do yourself a favor and listen with the lights off or at a campfire." — Brans0217
File Under: True ghost stories
Best Starter Episode: Episode "#228"
4. Sawbones: A Marital Tour of Misguided Medicine
Dr. Sydnee McElroy and her husband, Justin, dig into old medical journals to figure out some of the horrific ways we used to treat people — always weird, oddly funny, and often horrifying.
"I listened to the first two minutes of one episode of Sawbones, and now I'm a real doctor. I got my license in the mail and everything." — Heyjeffrey
"The McElroys are back and it was worth the wait. The banter between Justin and Sydnee is great no matter what the topic, but with sawbones I actually might learn something in the process." — chornbuc
File Under: Potential gore
Best Starter Episode: "Aah, Real Monsters"
3. The Wicked Library
Indie horror authors try their best to scare the shit out of you with this one, and — trust us — it works.
"Wicked Library is a fantastic showcase for authors! Nelson Pyles is a great reader of stories as well as a storyteller. I enjoy listening to these frightening and weird weird tales with Nelson's soothing voice lulling me into a false sense of security in my well being. Then bam! Scare me to death!" — autiezombiegirl
File Under: Indie horror stories
Best Starter Episode: Season 3, Episode 5: "Sleepers" by Daniel Knauf
2. The Dark Verse
A podcast focusing on elegantly told stories about people dealing with the things outside their control or comprehension.
"I love it! They are so creepy and detailed, it's surreal!" — gAmEsOvErMiNd
File Under: Lovecraftian storytelling
Best Starter Episode: "TVD 57: What the Water Means"
1. The NoSleep Podcast
The NoSleep Podcast features short works of original horror fiction that deliver on the title's promise — don't start this one the night before a big meeting.
"I enjoy late nights walking the dog, listening to podcasts on my iPhone. But then I started listening to The No Sleep Podcast and those nightly walks around the neighborhood have a whole new life. I see numerous fleeting shadows. I hear strange ghostly noises." — southonmain
File Under: Listen during the day (or else)
Best Starter Episode: Season 1, Episode 13