Samsung Halts All Sales of Its Exploding Galaxy Note 7 Phone
Consumers should "power down and stop using the device."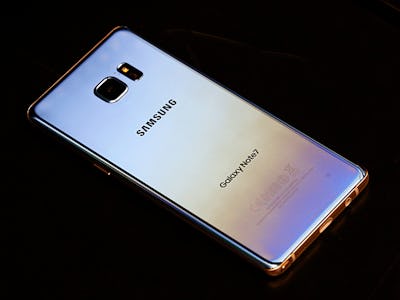 Getty Images / George Frey
Samsung is officially halting the sale of its Galaxy Note 7 smartphone, due to the fact that they keep exploding.
The bad news for Samsung (and Galaxy Note 7 owners) began in late August when numerous reports surfaced that the company's brand-new smartphone could overheat and explode when plugged in, due to a problem with the battery. The Federal Aviation Administration warned passengers not to bring Galaxy Note 7 on planes, and Samsung botched a voluntary recall of the phone in September. Customers could exchange their Galaxy Note 7 for a replacement.
The replacements also exploded.
So, that brings us to Monday, when Samsung took the drastic but seemingly necessary step of halting all sales of the phone and strongly encouraging any customers to stop using their Galaxy Note 7 altogether.
"Because consumers' safety remains our top priority, Samsung will ask all carrier and retail partners globally to stop sales and exchanges of the Galaxy Note7 while the investigation is taking place," the company said in a press release.
"We remain committed to working diligently with appropriate regulatory authorities to take all necessary steps to resolve the situation," it continued. "Consumers with either an original Galaxy Note7 or replacement Galaxy Note7 device should power down and stop using the device and take advantage of the remedies available."
The Consumer Product Safety Commission is also urging anyone who owns a Galaxy Note 7 of any kind to power down and stop using it.
Google's new Pixel phone is lookin' pretty good.