The U.S. Government Officially Recalls Exploding Samsung Phone
"Consumers should immediately stop using and power down the recalled Galaxy Note 7 devices"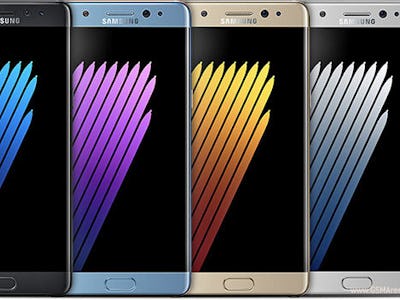 Samsung
The United States Product Safety Commission has formally recalled Samsung's recently released Galaxy Note 7 phone after numerous reports that the device would explode and catch fire while being charged.
"Consumers should immediately stop using and power down the recalled Galaxy Note7 devices," the commission said, explaining that the lithium-ion battery in the device is faulty and can catch fire if the battery short-circuits and flammable liquid heats up.
Note 7 users who turn in their phone will be eligible to receive a new one with a fixed battery, credit toward another model of Samsung phone, or a full refund.
The new phones are expected to hit stores by September 21.
Samsung had already announced that it was recalling the Note 7 earlier this month, but the company botched the standard procedure for ordering a recall, leaving the U.S. government somewhat hamstrung. As Inverse reported, the South Korea-based company should have alerted the Consumer Product Safety Commission right away. Instead, the government couldn't make hard statements about the phone under existing law.
Because of this oddity, the agencies like the FAA were only able to "strongly advise" that passengers leave their Note 7s at home or safely turned off.
"Samsung has announced a voluntary recall and exchange program on certain Galaxy Note7 devices in cooperation with the U.S. Consumer Product Safety Commission," the company said in a statement. "The affected devices were sold in the U.S. before September 15, 2016."
"Since the affected devices can overheat and pose a safety risk, if you own a Galaxy Note7, it is extremely important to stop using your device, power it down and immediately exchange it using our U.S. Note7 Exchange Program," the statement continues.