'John Wick 2' Trailer Is a Goddamn Perfect Bloodbath
"Whoever comes, I'll kill them all."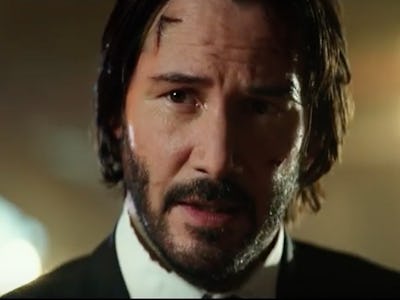 The man, the myth, the legend is back. Keanu Reeves stars in the newly released trailer for John Wick: Chapter 2, which just dropped in time for New York Comic Con. The sequel looks just as fun and action-packed as the original film, and this time around Lionsgate has tossed Common and Ruby Rose into the mix.
In the trailer, John Wick strolls into Rome and orders himself a custom suit with two buttons. He says he's in Rome for a social event, rather than a business one, but when asked what type of suit he's looking for, he answers, "tactical." A flurry of gunshots follows, and we're plunged into Wick's blood-stained world.
The film's official plot synopsis, which was released in April, is as follows:
Keanu Reeves returns in the sequel to the 2014 hit as legendary hitman John Wick who is forced to back out of retirement by a former associate plotting to seize control of a shadowy international assassins' guild. Bound by a blood oath to help him, John travels to Rome where he squares off against some of the world's deadliest killers.
Although Wick's return, in the original film, was fueled by his desire to avenge his puppy, this sequel will feature him as a happy dog owner. The pitbull he adopted haphazardly in the original film is still hanging around him, and they strut into fancy events together, presumably to fuck some people up.
All of the best aspects of John Wick are still working in full force: the candy-colored lights illuminate assassins in black, and the trailer is packed full of club scenes and ridiculous stunts. That last part is no surprise: Any leaked footage of Keanu training for his second time playing Wick has ignited hysteria in the film's fanbase. The guy is not just ripped: He's a fantastic tactical shot.
Watch the full trailer below.
John Wick: Chapter 2 hits theaters February 10, 2017.