Uber Confirms "Testing" of Self-Driving Cars in San Francisco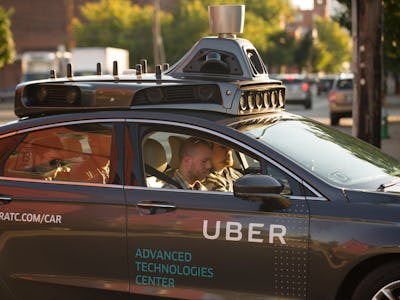 Getty Images / Jeff Swensen
The city of San Francisco is pushing to fully replace the city's cars with driverless vehicles by 2025, and it's Uber, not the government, that might be helping them get there faster. After a growing number of sightings, Uber recently confirmed it is testing self-driving cars in the city.
"These are for internal use only. They have a safety driver upfront and are not part of our ride-sharing service in the city," Uber tells Inverse. While it's unclear what "internal use" means, the company told the San Francisco Examiner earlier this month that the cars are largely being used for "mapping purposes."
"Testing these cars in different environments is critical to the future success of self-driving technology, which will help improve road safety and cut congestion over the long term," Uber tells Inverse
Uber was unable to confirm to Inverse when the driverless vehicles would be available to consumers in San Francisco.
After months of speculation, Uber finally launched its first fleet of self-driving cars in Pittsburgh in September. A company rep refused to confirm it was even experimenting with driverless cars until May. Given the small gap between announcement execution in Pittsburgh, there's a chance that commercial use of the driverless cars in San Francisco could only be a few months away.
As with the Pittsburgh fleet, Uber hopes road tests in San Francisco will help improve the technology before they allow consumers to go for a hands-free spin.
While there have been no fatalities since the launch in Pittsburgh, Quartz has reported incidents of dangerous driving, including a car driving the wrong way down a street.
At the Pittsburgh launch, citizens expressed concerns that the vehicles did not undergo adequate safety testing. But residents in San Francisco are likely more worried about their tax dollars than safety. Earlier this year, the city government announced a $150 million dollar plan to replace the city's cars with self-driving vehicles within the next decade.
California only allows the testing of fully autonomous in private lots, so it's unlikely Uber will test autonomous cars, sans human monitors, on actual streets soon.