The 'Legends of the Hidden Temple' Trailer Looks Wild AF
Olmec's back and stone-faced as ever.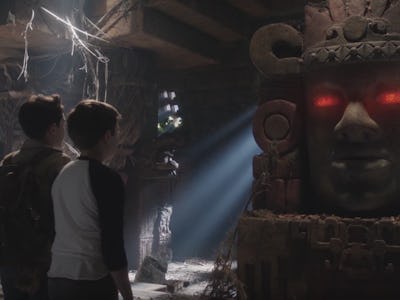 Nickelodeon 
On the surface, turning Legends of the Hidden Temple — a '90s adventure game show for kids inspired by Indiana Jones — into a movie seemed like a fool's errand, but that sure didn't stop Nickelodeon. Yet two new trailers for the film suggest that the Nick might've found a way to strike a balance between nostalgia and a real plot, centered around the shows mythology and narrative.
Nickelodeon's official trailer gives a bit more information on the premise of the film: When a family vacation takes an unexpected turn, three siblings — Sadie, Noah, and Dudley — wander away from a pedestrian tour and into a nearby temple. They quickly find themselves in over their heads and encounter a number of dangerous obstacles that stand between them and a way out of the temple.
We get a glimpse of some familiar elements from the show, including Olmec, the Steps of Knowledge, and that instantly recognizable contestant uniform. From the red jaguars and green monkeys to the temple guards, many of the Legends of the Hidden Temple staples are present, but they're definitely the next-level iterations.
An exclusive trailer from Buzzfeed also shows a fully assembled Silver Monkey statue in the appropriately named Shrine of the Silver Monkey. The Silver Monkey, which was in pieces in the game show and had to be assembled correctly in order to gain access to the rest of the temple, was notoriously tricky. The temple in the game show consisted of 12 rooms, one of which was the Shrine of the Silver Monkey, but it's hard to say just how many rooms the film will manage to include. Will we see the Throne Room? The Observatory? Maybe the King's Storeroom?
Adapting a '90s kids' game show for film may seem like a bit of a stretch, but Legends did have a mythology and a narrative behind it, and last year's surprisingly great Goosebumps film proved that even when the idea seems a tad flimsy on paper, good characters, a few solid jokes, and a degree of self-awareness can make films like these pretty enjoyable.
Legends of the Hidden Temple premieres on Nickelodeon November 26.