Nickelodeon Is Reviving 'Hidden Temple' and 'Hey Arnold' as TV Movies
Nickelodeon is resurrecting two beloved properties whether we like it or not.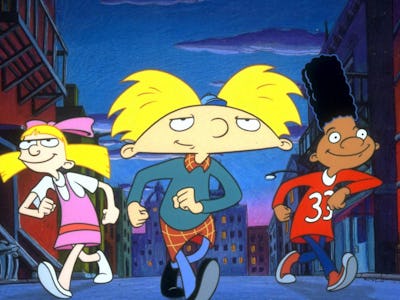 Nickelodeon, Viacom
This is it, fellow '90s kids who now, ya know, pay taxes and have kids who are "17 months old." This is peak nostalgia. We can only go down from here.
In an exclusive with Variety, Nickelodeon announced during its 2016 TV upfronts the revival of the '90s game show Legends of the Hidden Temple and cartoon series Hey Arnold! as made-for-TV movies. Yes, you read that correctly.
At the upfront, Nickelodeon spelled out its game plan: Hey Arnold will be a two-part feature film "based" on the acclaimed slice-of-life cartoon that ran from 1996 to 2004. It is unknown if the new movie will be animated or live-action.
Hidden Temple, meanwhile, will be a fantasy TV movie based on the '90s game show Legends of the Hidden Temple, where contestants competed in physical challenges against the backdrop of a faux Aztec setting. The film will follow three siblings who embark on a quest and endure trials that mirror the original show's physical challenges. Other elements such as the mystical talking head Olmec and bizarre animals like "green monkeys," "red jaguars," and "silver snakes" — that were the contestant's team names — will have cameos in the film. The film is slated for fourth quarter 2016.
"There's a tremendous amount of attention on kids these days. What that says is there's a tremendous amount of opportunity — not unlike what is going on in the grownup space," says Viacom's Cyma Zarghami, the company's president of cable networks targeting kids and families to Variety. "There is just more content everywhere."
The proliferation of content and available channels allowed Nickelodeon to lure back an older audience raised on its programming from the 1990s. In speaking to Variety, Zarghami recounts how Nickelodeon's newest revivals are just the latest from an idea the company's interns had a few years ago to provide reruns of older shows. As time passed, so did the idea's viability. As '90s Nick fans adopted social media en masse, "Interest in the Nick library [became] louder and louder and louder," Zarghami says.
Well, our nostalgia got loud enough to lead us to this point where we'd be better off deaf. After Fuller House and other ill revivals, perhaps we should really leave the '90s where it belongs. In the past.