The Secret 'Handmaid's Tale' Message Hiding at NYCC
In the bathroom of all places.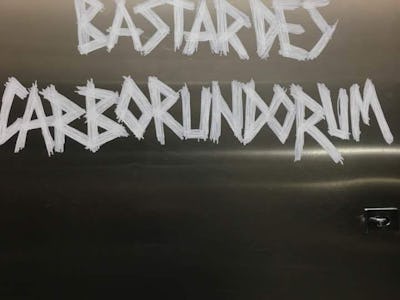 Inverse
Hulu certainly knows its way around targeted advertising: In the women's restrooms at New York Comic-Con, the online streaming service scrawled a catchphrase from its new series The Handmaid's Tale on the mirrors.
Sorry, gentlemen, the message here doesn't really apply to you. The source material for the show is Margaret Atwood's famed dystopian novel The Handmaid's Tale, which is a future-feminist manifesto set in a world obsessed with gender roles.
Atwood's original novel came out in 1985. It's similar to Aldous Huxley's Brave New World in that it depicts a "perfected" society, but it's way more focused on gender roles. The women in The Handmaid's Tale's society are openly oppressed, and an entire class of women are sterilized and forced to act as "handmaidens" or, rather, "concubines" for men. It's intense.
The phrase "nolite te bastardes carborundorum," which loosely translates to "don't let the bastards grind you down," is a learned theme within the book. It was also painted on all the walls of women's bathrooms at NYCC.
If you tweet #thehandmaidstale, the new series' official Twitter page will reply. We think that's some pretty clever advertising right there.
Expect to see The Handmaids Tale on Hulu in 2017.