Which Margaret Atwood Novel Should Be a TV Show Next?
Since 'The Handmaid's Tale' and 'Alias Grace' are both coming to TV soon, which Atwood novel should be next?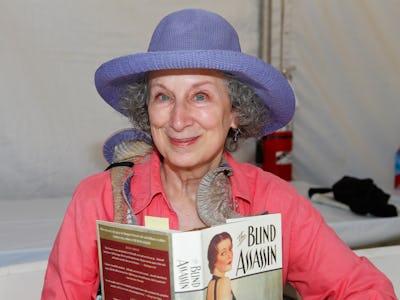 Getty 
It's a great moment for Margaret Atwood fans: both The Handmaid's Tale and Alias Grace are being adapted into television shows. The Handmaid's Tale will air on Hulu, while Alias Grace will be a Netflix series. Not to mention the Maddaddam trilogy, which has been in production purgatory at HBO for a long time. So what should be next?
If two are being adapted simultaneously, and Madaddam is allegedly coming in the future, it's only fitting that more should follow. Atwood is a legend, and it's high time her stories were given treatment that doesn't make their posters look like a Lifetime movie called Mother, May I Sleep With The Commander?
Though The Handmaid's Tale is Atwood's most famous and Alias Grace is her most palatable story for our true-crime loving era, two of her other works might make for even more dynamic productions. In the age of Peak TV, if any network is floundering, it should keep an eye on these two Atwood books: The Blind Assassin and The Heart Goes Last.
The Case for The Blind Assassin
This would make a great show because it straddles the line between sedate period piece about a quietly tragic family saga in 1940s Toronto and a gloriously bonkers space opera. It would attract both the Downton Abbey and Outlander fans and Firefly and Battlestar Galactica crowds alike.
The intergalactic story-within-a-story has the potential to be fleshed out the way American Gods is, and the outer real-world story has a twist that would satisfy fans of The Night Of or Game of Thrones.
Plus, it's steeped in Atwood's trademark wit and wrapped in social commentary about class dynamics, government, freedom, and the various ways women can be trapped in their own lives. It's got a wonderful mix of lowbrow "pulp" and highbrow refinement. Aliens aside, there's also a torrid secret affair and one of the main characters is a dashing young political radical. The Handmaid's Tale might be Atwood's most famous work, but The Blind Assassin is her best.
Sample quote:
When you're young, you think everything you do is disposable. You move from now to now, crumpling time up in your hands, tossing it away. You're your own speeding car. You think you can get rid of things, and people to leave them behind. You don't yet know about the habit they have, of coming back.
The Case for The Heart Goes Last
The Heart Goes Last is unquestionably Atwood's most batshit insane book. There are corrupt prison experiments, a truly dysfunctional married couple, affairs, sex robots, sexual lobotomies, a disturbing relationship between a woman and a teddy bear, Elvis cosplayers, bestiality, and an eco-friendly spin on the Blue Man Group called the Green Man Group.
It's a lot to take in, but in the hands of a showrunner with a taste for the weird — a Lindelof; a Fuller; a Whedon — it has enormous potential. Hilarious, disturbing, and wise, the plot clips along at a breakneck pace that's just begging for episodic breakdown.
Sample quote:
Looking back on his life, he sees himself spread out on the earth like a giant covered in tiny threads that have held him down. Tiny threads of petty cares and small concerns, and fears he took seriously at the time. Debts, timetables, the need for money, the longing for comfort; the earworm of sex, repeating itself over and over like a neural feedback loop. He's been the puppet of his own constricted desires.