5 Woody Allen Movie Easter Eggs in 'Crisis in Six Scenes'
Derivative? Sure. Carefully placed self-referential plot details? Yeah, that too.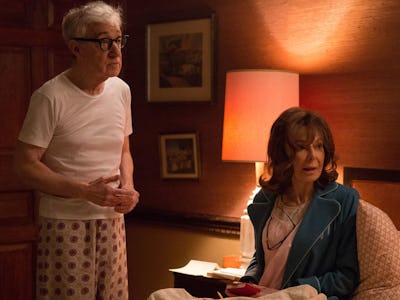 Amazon
Filmmaker Woody Allen has taken the plunge.
His first original TV series, Crisis in Six Scenes, debuted on Amazon Video on September 30. The show, set in the '60s and about a floundering writer (played by Allen) whose wife (Elaine May) agrees to take in a political fugitive (Miley Cyrus) in their suburban home, is getting some rough reviews. Some reviewers cut the guy some slack for taking his first stab at longer television stories, but critics can't seem to get over the idea that Allen recycled way too much of his own material, making it a longer collage of his past tropes.
Even if you're not a Woody Allen fan, you've got to admit that keeping up his one film a year quota makes it difficult to stay fresh. While Crisis in Six Scenes is exceedingly derivative at times, it still handily borrows from Allen's previous films in amusing ways. Certain story details aren't self-plagiarism as much as they're easter eggs that anybody familiar with Allen's filmography could readily pick out and dissect.
Here are five of the most prominent Woody Allen easter eggs peppered throughout Amazon's Crisis in Six Scenes.
Political Strife
From the moment the series cranks out the distinct tones of "Volunteers" by Jefferson Airplane in its opening minutes, it signals that the famously anti-rock-and-roll jazz-loving filmmaker is breaking new ground. Allen usually sticks to his well-worn jokes about psychoanalysis and New York intellectuals in his films, and there's more than enough of those jokes in the series too, but political context isn't the first Allen hallmark to spring to mind.
But with nearly 50 films under his belt, it's easy to forget the earlier more playful comedies like Bananas. In that 1971 film, Allen mixes together the revolutionary spirit of the time in the perfect farce, playing a man who mistakenly becomes the Castro-like president of a fictional Latin American nation. A bloody coup d'état has never been funnier.
A Runaway
Pop star Miley Cyrus allegedly got the gig in Crisis in Six Scenes because Allen's kids watched Hannah Montana all the time. She ended up in Allen's series in much the same way her character: The pseudo-revolutionary radical Lennie Dale, ended up in the impossibly nice upstate New York home of Allen's character Sidney Munsinger — by chance. She fled the city after setting off a bomb in a local draft board, holing up with Munsinger and his wife Kay because they're the only people she's vaguely aware of that she can rely on to help her out.
Actress Evan Rachel Wood played a similar, but more innocent kind of stowaway named melodie in Allen's 2009 film Whatever Works, which starred Larry David as a former Columbia professor and professional curmudgeon who takes in a 21-year-old fugitive after finding her on his doorstep one night. While Crisis in Six Scenes emphasizes Lennie's incessant rebelliousness — much to the show's detriment — at least the faux religious outlook on Melodie actually develops her deserter character.
Elaine May
Filmmaker and comedy goddess Elaine May came out of semi-retirement to appear as Munsinger's Chairman Mao-spouting marriage counselor wife Kay, and is probably the single best thing about the entire six-episode series. Allen probably didn't have to do much convincing for May to get back in front of the camera. She starred in Allen's moderately funny 2000 comedy-caper Small Time Crooks about a career criminal played by Allen who recruits his hooligan pals to try and rob a bank by buying the restaurant next door and burrowing a hole in between both basements.
While not considered one of Allen's best, Small Time Crooks has a similar type of levity to some of Allen's most recent work like Crisis in Six Scenes and is energized by May's performance as the ditzy cousin of Allen's character's wife Frenchy (Tracey Ullman).
American Literature
You cant watch a Woody Allen movie without having someone name-drop a famous American author, but Crisis in Six Scenes actually aligns Allen's character with one of towering figures of the post-war literary tradition by name. The down-and-out former ad man and current struggling novelist (who somehow has a gigantic suburban estate) goes by the name S.J. Muntzinger professionally, just so he can recall the late reclusive writer J. D. Salinger. Munsinger even ponders out loud, in Allen's patented nebbish form, "Do you think that it's in me to write a novel as good as The Catcher in the Rye?"
You'd imagine Allen would be so bold as to cast someone to play Salinger to show up and knock some sense into Munsinger, and he'd previously done something very similar with another American lit all-star in Midnight in Paris. There is a large cast of famous characters who show up to bother Owen Wilson's protagonist, including Adrien Brody as Salvador Dali and Kathy Bates as Gertrude Stein. The real highlight is actor Corey Stoll's turn as the boisterous Papa himself, Ernest Hemingway, who teaches Wilson's own gloomy writer how to live his best literary life. Maybe that's what Munsinger needed too.
Hating on TV
Allen hasn't hidden his disdain for working on his first original TV series, telling journalists at the 2015 Cannes Film Festival, "I have regretted every second since I said OK to the show," that "It was a catastrophic mistake for me," that he "should not have gotten into it," and "I haven't had a pleasurable moment since I undertook it."
Obviously, this was heavy on his mind, as his character is currently in the midst of trying to come up with a TV sitcom idea about neanderthals but has a bad case of regret for taking on a project he sees as beneath him. "Mel, here, is great at jokes," he says of his writing partner during a lowly network pitch. "I'm very good at texture. The comic possibilities are myriad."
It's all a thinly veiled knock on the medium and the viewer themselves, which never really lands considering viewers are there to watch Allen's own TV show. But his contempt for TV is nothing new. His character in perhaps his most beloved movie, Annie Hall, quits his TV job because of stress, and later tells a friend during a trip to the west coast that "In Beverly Hills they don't throw their garbage away. They make it into television shows."