Potterverse History Was Peaceful Thanks to Female Leadership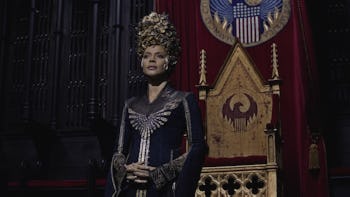 the-leaky-cauldron.org
The American Wizarding World has been far more peaceful than the European community for one big reason: the Americans kept electing female presidents.
The grand and historical Magical Congress of the United States of America was founded in 1693 amongst international chaos in the wizarding world. The first president of MACUSA was a warmongering man by the name of Josiah Jackson (could he have had a prominent no-Maj progeny?) but after him, the MACUSA learned it's lesson. After Jackson's rule, chaos would have reigned amongst the U.S. wizarding population without its history of female presidents.
At the helm of MACUSA during the 1920s was President Seraphina Picquery. We've seen her before — she's the unfortunate, regal-looking woman who has to deal with Magizoologist Newt Scamander's suitcase in Fantastic Beasts and Where to Find Them. Her reign as President ends in 1928, according to new information we have thanks to J.K. Rowling's Pottermore, but we also know that she was not the first female president in MACUSA history. Not by a long-shot.
The first female president that we know of was Elizabeth McGilliguddy, who was in charge of helping determine whether or not she and her fellow wizards would participate in the No-Maj (Muggle) Revolutionary War in 1777.
Known as the "Country or Kind" debate, the Wizarding community's representatives were deadlocked on whether or not they should take part in the Revolutionary War. Did they owe allegiance to the United States? Tired of dealing with the indecisiveness surrounding her, President McGilliguddy sent a letter to the British Ministry of Magic.
"Sitting this one out," they wrote back, short and sweet. McGilliguddy's famous reply was the ominous: "Mind you do," resulting in neither side participating in the war.
Our other notable woman of the hour is President Emily Rappaport, fifteenth president of MACUSA. During her time, President Rappaport dealt with one of the severest breaches of the International Statute of Secrecy in its history other than, of course, Picquery's dealings with the Scamander Beasts.
A young woman by the name of Dorcus Twelvetrees revealed the existence of magic to a No-Maj man, Bartholomew Barebone, as well as the locations of MACUSA and Ilvermorny, the United States School of Wizardry. Barebone, determined to see the end of all wizards and witches, spread the word about the existence of magic.
This disastrous breach in secrecy resulted in relocation of the MACUSA headquarters and a "humiliating" censure by the International Confederation of Wizards. Rappaport was forced to testify and admit that she couldn't be sure all No-Maj minds had been wiped of the information.
Rappaport's Law came into fruition in 1790 as a result of the international embarrassment. It resulted in total segregation between magic and non-magic people, keeping Wizards from even being friends with No-Maj people, and restricting them to interactions "necessary to perform daily activities." However, who's to say what would have happened without it.
Plus, it gives us a plot for the upcoming film. It's Rappaport's Law that seems to be at play in Fantastic Beasts, since Newt seems completely unaware of the segregation and interacts freely with No-Maj people while letting magical creatures loose in New York City. (Come on, Newt. Seriously?)
We'll find out more about President Seraphina Picquery, Newt Scamander, and MACUSA when Fantastic Beasts and Where to Find Them arrives November 18.