There's a Powerful Message in the Harry Potter Spin-Off 'Fantastic Beasts'
Much like the Harry Potter films, 'Fantastic Beasts and Where to Find Them' includes so powerful social commentary.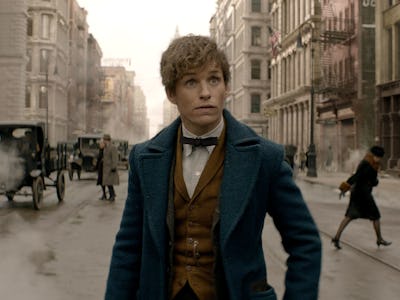 Warner Bros.
In a new featurette for the upcoming Fantastic Beasts and Where to Find Them, J.K. Rowling and the cast discuss the newest hero to join the Potterverse: Newt Scamander.
The film, set in 1920s New York City, follows Scamander (and his suitcase full of magical creatures) on a trip to a new country and a new magical world. Finding himself in danger and needing to rise to the occasion, it sounds like Fantastic Beasts just might be a Scamander hero origin story.
"My heroes are always people who feel themselves to be set apart, stigmatized, or other-ed," Rowling says in the featurette. "That's at the heart of most of what I write, and it's certainly at the heart of this movie."
Scamander, with his strange job and his affinity for creatures that others may find grotesque, terrifying, or unpleasant, is something of an outsider in his world.
"Newt feels more at home with creatures than he does with human beings," says actor Eddie Redmayne.
Deepening the divide between Scamander and those around him, though, are the bizarre laws and practices of the American wizarding community.
"You have rather backwards laws about relations with non-magic people," says Scamander in the featurette. "You can befriend them, you can't marry them, which seems wildly absurd to me."
Much like the Harry Potter films before it, Fantastic Beasts seems as though it's going to have some powerful social commentary on the way humans treat one another, on stigma, and on the alienation of those who are perceived as different" or "other."
Just as Potter examined evil and prejudice through the lens of Voldemort and the treatment of "mudbloods," Fantastic Beasts looks as though it's going to take on social issues of prejudice and ignorance in an entirely new world and through the lens of an entirely new conflict.
The message is as clear as it's always been in the world of Potter: anyone can be a hero, and it's often those who are discounted, underestimated, brushed aside or otherwise "other-ed" that find themselves brave enough to take on the mantle.
Fantastic Beasts and Where to Find Them hits theaters on November 18th.