Supergirl Introduces Her "Cousin, Superman" in Season 2 Teaser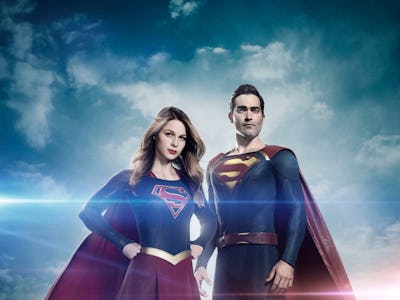 DC Entertainment, Warner Bros. Television
Superman is finally going to be on the CW's Supergirl, and their announced partnership is turning every head in National City. However, some citizens just can't seem to deal with all the red-caped super-people flying around.
The CW released a new trailer today for the Season 2 premiere of Supergirl, and the one thing on everyone's mind is Superman. Everyone's fawning over the Man of Steel, from Cat Grant — who is more interested in Clark Kent than his alter-ego — and Winn Schott — who asks the age old question of "how does Superman shave?" — to Cara's sister Alex, who just thinks Superman "smells terrific."
However, having two members of the Super family is proving too difficult for one family; the father declares that they are "moving back to Gotham!" This seems like an overreaction considering Gotham is objectively more dangerous than any other city in the DC Universe. Has that man even seen what's happening on Fox's Gotham? There's a supervillain on every corner!
This nod to Gotham is obviously a joke, but it's also confirmation that Supergirl's reality involves Batman's home city, though it's possible that Bruce Wayne doesn't exist, or that his parents were never killed. To clarify, Supergirl's "Earth-4", or "Earth-CBS", as fans have called it, doesn't have a S.T.A.R. Labs, Barry Allen, or Oliver Queen either, but some have speculated that Flashpoint in The Flash may merge Supergirl's reality with the Arrowverse.
Earlier this year, it was announced that the second season of Supergirl will be moving from its original network at CBS to the CW to join the rest of the Arrowverse shows like The Flash, Legends of Tomorrow, and Arrow on one network.
Season 2 of Supergirl debuts October 10, 2016.