There's a Third 'Star Wars' Anthology Movie Coming in 2020
After Young Han Solo, and the conclusion of Episode IX, the Force will keep going.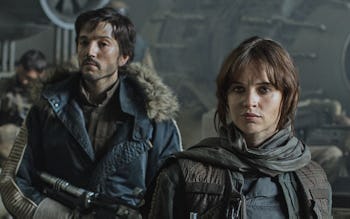 The cinematic Star Wars universe is set to expand well beyond the conclusion of the contemporary core trilogy, as Disney has officially confirmed the release of a third Anthology Film in 2020. Like this year's Rogue One, this Star Wars film will likely be another standalone movie separate from the trilogies, and the first such Star Wars film — unless you count the Ewok Adventure — to be released while one of the trilogies hasn't been in production.
Speaking at a Goldman Sachs Communacopia conference, Disney CEO Bob Iger confirmed his enthusiasm for the standalone Star Wars films noting that these stories do not "fit neatly into the Skywalker saga."
The first of these "standalone" or "anthology" films is this years's hotly-anticipated Rogue One: A Star Wars Story, which will focus on events tangential to the original Star Wars. After that, the next anthology film — set to be released in 2018 — will focus on a young Han Solo. Because Alden Ehrenreich's portrayal of the younger version of the beloved space pirate is heavily rumored to have a cameo in Rogue One, there's every reason to believe this third anthology film may share connective tissue with the two films that precede it.
Starting with Rogue One, each Star Wars anthology film will release in the years in-between the current run of "regular" episodic Star Wars films. Still, just because the anthology films aren't connected to the new trilogy directly, these three films could form their own kind of loose story. At this time, absolutely nothing has been confirmed about the subject for the 2020 Star Wars film, but from Yoda to Boba Fett, a solo adventure for a new Princess Leia, the fan speculation is about to begin.