Barack Obama Is Super Optimistic About Self-Driving Cars
The U.S. Department of Transportation released the guidelines Tuesday.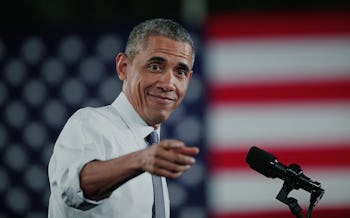 Getty Images / Bill Pugliano
Sure, Tesla's Autopilot technology has had plenty of problems, but President Barack Obama isn't worried — in fact, he's actually pretty stoked on self-driving cars.
Obama preempted Tuesday's release of the federal government's guidelines for self-driving cars with a hopeful op-ed in the Pittsburgh Post-Gazette, wherein he attempted to strike a balance between innovation and safety.
"The quickest way to slam the brakes on innovation is for the public to lose confidence in the safety of new technologies," Obama wrote in an op-ed published Monday evening. "Both government and industry have a responsibility to make sure that doesn't happen. And make no mistake: If a self-driving car isn't safe, we have the authority to pull it off the road. We won't hesitate to protect the American public's safety."
The new guidelines will include a 15-point safety check that governs how self-driving vehicles respond to crashes and what protections they must offer passengers. Also included: how they'll be programmed to comply with federal and state laws, among other things. Manufacturers of autonomous cars will be asked to document each of these subject areas, and as Obama wrote, the government is prepared to remove any non-complying vehicles from the road.
These new guidelines come a week after Uber started testing its self-driving vehicles in Pittsburgh. Many of the city's residents have questioned the move, and Mayor Bill Peduto told Inverse last week that many of these fears come down to a lack of understanding of self-driving tech. New rules for these vehicles could help convince the American public that autonomous cars don't pose a serious threat to anyone's well-being despite their current limitations.
That became more difficult earlier this year when Tesla's Autopilot (which allows for partial automation but is not true self-driving technology) was involved in a fatal crash. More than a few observers noted that the crash had something to do with a lack of federal oversight.
"The progress we've seen in automated vehicles over the past several years shows what our country is capable of when our engineers and entrepreneurs, our scientists and our students – backed by federal and private investment – pour their best work and brightest ideas toward a big, bold goal," Obama writes in the op-ed. "That's the spirit that has propelled us forward since before the automobile was invented. Now it's up to us to keep driving toward a better future for everyone."