Google's Gone All-In on 3D for Washington, D.C.'s Newest Museum
Artifacts come to life with interactive panels.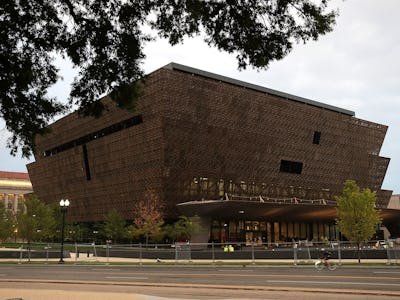 Getty Images / Alex Wong
Visitors of the soon-to-be-opened National Museum of African American History and Culture will be stepping into what the Smithsonian — with a little help from Google — hopes will be the most technologically advanced museum in the world.
Google announced last week that it created a "first-of-its-kind 3D interactive exhibit" for the NMAAHC that should be open to visitors in the spring of 2017. The museum itself, which is part of the Smithsonian's network of museums devoted to American history, is scheduled to open to the public this weekend, Sunday, September 24.
This interactive exhibit will allow people to explore artifacts, read text, and watch videos on giant touchscreens. The hope, as Google explains, is to make it so people can enjoy more of the NMAAHC's objects in a way that takes up the least space. It will accomplish this with "3D scanning, 360 video, multiple screens and other technologies" that can also be controlled via mobile devices.
A Google spokesperson tells Inverse that this exhibit is "first-of-its-kind," partly because it's the first time Google engineers have worked on a project like this and partly because "they've created something where the museum can also easily swap out content when it's ready where they can scan, plug and play."
"On the tech side — Travis McPhail, who leads the team, has worked with designers and engineers from across the country to build this tech," the Google spokesperson explained in their email to Inverse, "and is creating something new that the museum will be able to manage and use for years to come."
Writing for Smithsonian Magazine, Katie Nodjimbadem writes in a piece on the exhibit that it's part of something called Project Griot at Google. Griot means "a member of a class of traveling poets, musicians, and storytellers who maintain a tradition of oral history in parts of West Africa."
Efforts like this are meant to provide more access to historical artifacts while preserving them. Researchers have also developed a way to read books without opening them so they can access precious-and-fragile information about our history without running the risk of destroying them in the process.
Future historians should have a much easier job, thanks to advanced storage methods that promise to protect data better than these artifacts. But, for now, efforts like Project Griot are the best options for allowing people to explore history without endangering the objects museums wish to preserve.