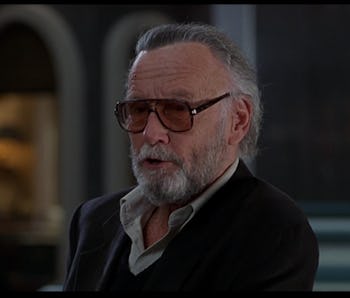 Entertainment
Stan Lee's Biopic Will Be a '70s Period Piece
Lee's life is about to get the action star treatment.
Gramercy Pictures
Stan Lee's life has been so wild it almost sounds like a comic book — and soon, it might be a film. 20th Century Fox just announced that it acquired the rights to make a '70s-style, action-adventure film based on the Marvel Comics tycoon's larger-than-life story.
Lee, who co-created characters like the X-Men and Spider-Man, has become an even bigger icon since the massive global success of the Marvel Cinematic Universe. He's made cameo appearances in nearly every Marvel film to date — usually playing a fictional character with Lee's likeness — but in the new film, someone else will depict Marvel's former president in an idealized romp akin to Kingsman: The Secret Service or Roger Moore's 007 films.
This might sound like a bit of a stretch for a film about one of comic's most famous writers, but Lee's history is full of colorful details that lend themselves perfectly to the action-adventure film Fox is planning.
Marty Bowen and Wyck Godfrey, who previously produced Twilight and Maze Runner are all aboard with this scheme.
Lee, now 93, got his start in comics in 1939, working as an assistant at Timely Comics. In 1942, Lee joined the United States Army Signal Corps, first as a repairman for communications equipment, and later moved to the Training Film Division. There, Lee served as a "playwright" for the U.S. Army through World War II. Lee used his copy-writing skills throughout the war, writing manuals, training films, slogans, and even some cartoons for the military.
After the war, Lee returned to the company that would later become Marvel comics and helped create some of its most iconic heroes. But he still wouldn't be as beloved as he is today if it weren't for his charisma in front of the camera. After hosting a variety of television shows, coining his own catchphrase ("Excelsior!"), and generally being game for whatever ludicrous superhero movie cameo filmmakers prepared for him, Lee's legacy as an entertainer became nearly as big as his legacy as a comic book writer.
The planned Stan Lee adventure film doesn't have to look very hard to find a swashbuckling story with Lee at its center, especially not with photos of him looking like this lying around.
Below are some of Inverse's most-read stories about Stan Lee.