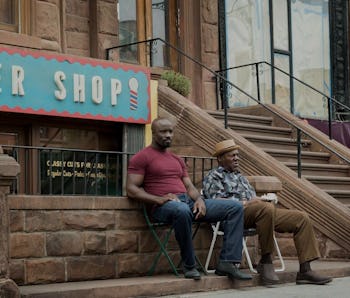 Entertainment
How Does Luke Cage's Harlem Fit into the MCU?
Netflix's 'Luke Cage' will be the first time Marvel has treated Harlem as anything other than a quagmire.
Marvel Entertainment
New York City has long been an environment explored by Marvel's superheroes, and it's the in-universe birthplace of characters like Captain America, Spider-Man, and Luke Cage. While Cap is from Brooklyn, and Spider-Man is from Queens, Luke Cage is Harlem's primary hero — though Sam Wilson, aka The Falcon from Civil War, was born in Harlem, he lives wherever he needs to. Luke Cage is unique because he stuck around his hometown, and his villains are local to the same streets.
Harlem first appeared in Marvel Comics in a 1969 issue of Captain America, although the city is only in a few panels. After an adventure together, Captain America and the Falcon make a pit-stop in Harlem, just to drop Falcon off, and Cap continues on with the comic's plot at S.H.I.E.L.D. headquarters. Notably, when the heroes say goodbye, Cap wishes Falcon luck in his own town, because he perceives Harlem as being especially crime-ridden. Essentially, Marvel sold Harlem back in the '60s as a pretty tough place to be a do-gooder.
Luke Cage's version of Harlem, which was introduced in 1972, is marked by gang activity. His first issue's subtitle was "Out of hell — a hero!", because he learned the tricks of the vigilante trade as a young man in a gang called The Rivals, which also counted Willis Stryker — later known as Diamondback — as a member.
Another black superhero, T'Challa, aka Black Panther, worked a few crime-fighting stints in Harlem as a plot point in the 1970s Avengers comics. Using the pseudonym Luke Charles, T'Challa left his native Wakanda, taught at Andrew Jackson High School, and kept an eye on American kids.
Netflix's Luke Cage will not be Harlem's first time in the MCU, technically, as Hulk fought the Abomination in front of the Apollo Theater in the 2008 film. No cultural context was given for the fight taking place in Harlem, and there certainly weren't any mentions of Falcon or Luke Cage stepping in.
All of the language used to describe Harlem in Netflix's Luke Cage positions the city as this particular hero's version of Gotham, meaning a place with a lot of social problems that's still worth saving. This is a new development for Marvel, which has always treated Harlem like some kind of a cesspool, producing more criminals than decent people. That definition, it could be argued, was rooted in a racist understanding of New York City's black population, given that Luke Cage comics were first published in the '70s.
Daredevil comics and the Netflix series refer to Hell's Kitchen as a similarly difficult place to live with high crime rates and decaying architecture, but there's much less attention paid to the borough's demographics than in Luke Cage. As for the other Defenders, Jessica Jones lives in Midtown while Danny Rand shares a condo (in the comics) with Luke Cage's on-again, off-again girlfriend Misty Knight in Harlem.
As Marvel proved with Jessica Jones, its Defenders will be aware enough of New York City's troubles to identify a few of the Avengers, but none of them worship the big name superheroes or follow them with any dedication. Like Jessica in Midtown, Luke Cage will likely keep his career as a superhero hyper-focused to the streets of his neighborhood. His villains, luckily, aren't the Ultron or Loki types interested in world domination or spinning sky vortexes. Cottonmouth and Diamondback are simply organized crime lords looking to make money.
Though Harlem has been a setting for superhero dramas since the 1970s, the new Luke Cage series will give the borough more unique gravity than any previous Marvel project.