The Music of Marvel's 'Luke Cage' Is Pure New York City
"Kick in the door, waving the four-four."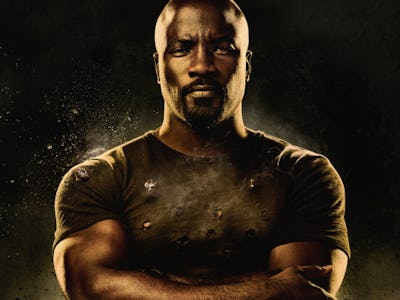 Wordpress
In "Moment of Truth", one of Gang Starr's many iconic songs, Guru raps, "They said it's lonely at the top and whatever you do / You always got to watch motherfuckers around you / No one is untouchable / No man is bulletproof."
Clearly, Guru forgot about Luke Cage.
Today, Netflix released Street Level Hero Music, an ongoing series that will explore the music behind its latest Marvel superhero show, focusing on bulletproof brawler Luke Cage's fight to defend his Harlem home from corruption and evil.
Showrunner Cheo Hodari Coker already revealed that every episode of the show will be named after a Gang Starr song. The first episode of Street Level Hero Music shows how important using hip-hop as the underlying soundtrack for Luke Cage is – to nail the feel of New York City. Cage is a powerful, black, Harlem-based superhero, and he's inseparable from the proud hip-hop culture he represents.
Method Man echoes the feelings of many hip-hop heads when he states, "Brothers, like me, been waiting for it since I was eight years old and now it's here and I'm ecstatic."
What makes Luke Cage such an important character is his origin story? He's a superhero that comes from a poor area in New York City – he's not a billionaire, or an alien, or a soldier. He is flawed, rebellious, and does not usually perform heroics out of the kindness of his heart. He is important largely because there are not many superheroes like him — he's one of the few characters who comes from an urban environment – appealing to a demographic of superhero fans who would not see their likeness in characters like Spider-Man (before Miles Morales, that is) or Captain America.
Hip-hop is the voice of Luke Cage's society, so it only makes sense that the music of his upbringing would be part of his story. Nineties-era rap was flawed, dirty, and told stories of a neglected sector of society. Ali Shaheed Muhammad and Adrian Younge, the show's musical supervisors, understand this concept and highlight tracks that best encompass all of New York's "hoods", by featuring music from Nas, Wu-Tang, and Gang Starr.
As Luke Cage places his headphones on his ears to do battle and protect the streets, the boom bap beats of '90s-era rap is a perfect stylistic choice. Cage's kicks and punches — breaking down walls, knocking in doors, taking out enemies — perfectly coincide with the music. He displays a certain bravado and stoicism that is often associated with the music of the era. Hip-hop gives him confidence and it puts him into zone bereft of the pressures of the outside world – displaying what hip-hop once meant to the kids who enjoyed listening to the music.