Masked Men Will Be the New Normal in San Francisco
"Smoke waves" are making the air we breathe more dangerous.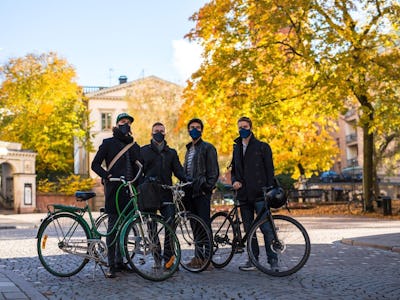 Airinum
A recent study in the journal Climatic Change outlined a little-discussed phenomenon called "smoke waves" — harmful levels of smoke that rise in the wake of wildfires and might affect millions of people, primarily in northern California, western Oregon, and the Great Plains. Should the Western world be looking for ways to protect itself from toxic air? According to Swedish startup Airinum, the answer is yes.
Airinum launched a Kickstarter campaign nearly a year ago to create the next generation of wearable environmental protection — masks that effectively filter 99 percent of pollutants from the air we breathe. Some groups have long worn surgical masks in public, but it's never taken off as a prophylactic measure in most regions of the world. One of the main cornerstones of Airinum's marketing strategy is that its masks are not just functional, but fashionable — a distinct, statement-making cut above the disposable paper masks you see on the street from time to time.
Airinum's masks are more effective and durable than the disposable paper kind. While the team's product was inspired by exposure to pollutants in New Delhi, Airinum CMO and co-founder Fredrik Kempe confirmed that California, too, is ripe for his company's product.
"Ever since the Kickstarter campaign we view California as a market for our product," Kempe told Inverse by email. "We have since then been following the recent 'smoke waves' in California along with related news such as the Instagram post of Justin Bieber wearing a mask to protect himself (unfortunately not with an Airinum mask but with a surgical one that does not protect him close to what our product would)."
California isn't Airinum's key market area — that remains the privilege of bigger metropolises in China, Korea, and India — but Kempe said that pre-sales of Airinum masks indicate their potential as a growing trend in the Western world.