Pollution in China Gets So Bad People Are Importing Air
A North American company finds itself selling out to Chinese customers.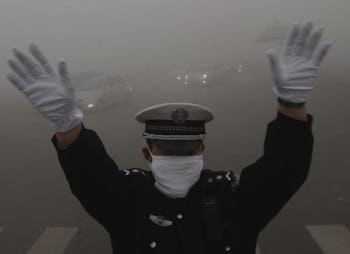 instagram.com/annasoomers
A Canadian company that bottles fresh air has reported it has sold out a shipment of 500 bottles to buyers from China in four days.
A second shipment of 4000 bottles is already on its way to China, but tells that delivery is also almost sold out.
The current situation of polluted air in China is well-documented. The nonprofit group Berkeley Earth released a study in July that found "92 percent of the population of China experienced [more than] 120 hours of unhealthy air"—and on December 8, Beijing experienced such a poor level of air quality that the city's government issued a pollution "red alert" that closed schools and restricted the number of cars on the road.
Enter Vitality Air.
Based in Edmonton, Canada, Vitality Air bottles air collected from the Banff National Park in Alberta, Canada, and sells it online, in sizes ranging from three liters (CAD $19) to 7.7 liters (CAD $59) — and as co-founder Moses Lam told CNN, "In North America, we take our fresh air for granted but in China the situation is very different."
According to Lam, Canadian sales are usually of the novelty variety, but with the severe air pollution problems China is experiencing, he thinks it makes sense that the country is furiously purchasing his product. He further told CNN that if a nation already imports food and other necessities—and it needs clean air—he understands their actions.
Vitality has apparently caught on to where its client base lies, as it has made a large sales push toward China on Twitter:
According to Daily Mail, the company is in talks with distributors in China looking to potentially stock their air product in stores across that country.