India Heat Wave Sets a Devastating New Record as Pollution Rises
Cover your head and pray for shade: it's the only way to avoid the heat in India right now.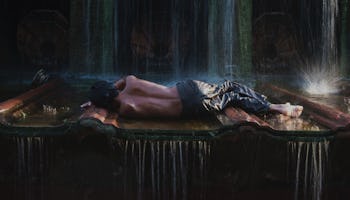 Roberto Schmidt/Agence France-Presse — Getty Images
It is extremely hot in India. As the summer moves in via cool breezes and spring showers elsewhere, life-threatening temperatures have become commonplace across India, where this past Thursday's temperatures soared to an all-new high. Reaching 123.8 degrees Fahrenheit in the town of Phalodi, India's hottest day yet sent people to the hospital in droves and provoked a social media outcry from those who had to deal with the weather in other parts of the country.
May is commonly the hottest month of the year in India, and this year is no different. This week's record is the highest in over half a century; in 1956, a nearby town known as Alwar reached 123.1 Fahrenheit. There aren't many ways to deflect the heat for locals; for the most part, they deal with it via umbrellas and head coverings, keeping the brutal sun out of their faces. With water decreasing and heat increasing, there are few ways to truly combat the heat outside of drinking buttermilk and staying inside. With weeks to go before the expected monsoon season in June, residents have quite some time to brave before any relief will come. "The main protection against heat is water," said Dileep Mavalankar, the director of the Indian Institute of Public Health in Gandhinagar, Gujarat. "If you don't have adequate water or water gets contaminated, you might die because of diarrhea and dehydration in the summer."
With the rate that greenhouse gasses are currently rising, scientists believe that global temperatures could rise more than six degrees Fahrenheit by the end of this century. According to India's National Disaster Management Authority, more than 2,400 people died from heat-related illnesses just last year.
India's high air pollution rates aren't helping what is looking like its hottest year yet; a May 12th study by the World Health Organization named four cities in India with the worst air pollution in the world. The country is also facing a water pollution problem, with environmental officials recently calling for a list of companies responsible for polluting the water of six different western states in the region.
Phalodi's heat is expected to continue its relentlessness under cloudy skies next week, with lower temperatures resting between 110 and 114 degrees Fahrenheit. High chances of precipitation may bring scattered rains over the area going into the week, while those visiting the big city of Mumbai will encounter slightly less forgiving (but no less forgivable) temperatures in the 90s.