Japan's 3D Maps Will Get Self-Driving Cars on Roads Before 2020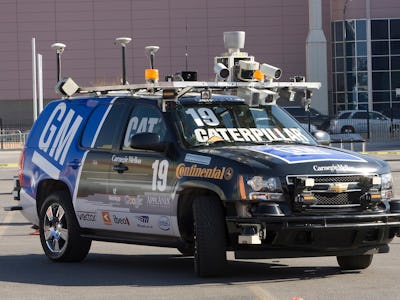 Getty Images / David Paul Morris
A Japanese venture will map out the country's roads in 3D to help get self-driving cars on the road ahead of the Tokyo 2020 Olympics. Dynamic Map Planning, which has the support of the Japanese government, said on Monday that it will provide the resultant maps to the nine car makers that have so far invested in the venture.
Japan's speedy plans are partly influenced by a desire to help decide international standards. Nikkei reported that as American, German, and Dutch companies lead the way in developing 3D maps, Japan hopes to use the maps to get a voice in any future regulations.
3D maps will be critical to self-driving car operation. Although sensors can steer the vehicle and avoid collisions, and GPS can give an idea of location, multi-ramp highways with several lanes will prove prohibitively difficult to navigate unless the car understands complex mapping and road layouts.
Dynamic Map Planning is using a car fitted with GPS and sensors to gather the location and height of the vehicle as it's moving. At the same time, lasers will be used to measure road markings, signs, and other signals. The maps are created from a matrix of dots into a barebones wire frame that looks a bit like a level from PS2 game Rez.
While initially the venture will only map around 300 kilometers of the country's expressways, Dynamic Map Planning will have a large amount of highway to cover if it wants to approach full autonomy. The car sent out to measure the roads costs hundreds of millions of dollars to run, though, so although the goal is to have the systems ready by 2020, measures to reduce costs could end up delaying plans.