The Amazing Adele Scene in 'Skiptrace' Almost Didn't Happen
"They didn't speak English but they knew the lyrics."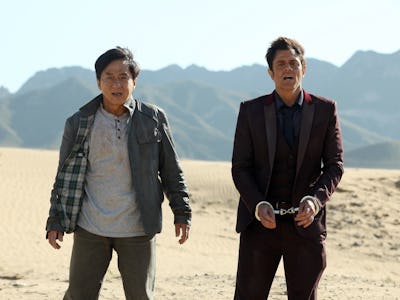 Saban Films, Lionsgate
In Renny Harlin's new movie Skiptrace, an out-of-place musical number steals the show. Jackie Chan — who has a successful singing career in China – leads a Mongolian village in an on-film rendition of Adele's 2010 platinum hit "Rolling in the Deep," remixed with traditional instruments. But the scene was nearly cut – because of Adele herself.
When film directors work with Jackie Chan, a notorious perfectionist, the job demands flexibility and a knack for improvisation. Discovering the locals loved Adele was one such instance.
"I went to Mongolia to get scenes ready. None of this [music scene] was in the script," Harlin told Inverse. "I was getting to know people there. I'm this tall blonde guy in front of Mongolians in their traditional outfits taking pictures, and it was a crazy cultural mix. I started thinking, 'How do we demonstrate this in the best way?'"
Harlin, a Finnish filmmaker who built a Hollywood career doing sequels like A Nightmare on Elm Street 4 and Die Hard 2, learned his extras knew western pop culture despite modest technology and limited infrastructure. A villager told Harlin that he loved the London pop singer. His favorite tune? "Rolling in the Deep."
"I said, 'You listen to that song?' They said, 'Yeah, we all do.' And Jackie said, 'I love that song too. Everybody in China knows that song.'"
The director knew immediately what he needed to add. "We could have this amazing east meets west moment," he told Jackie. "We've got to make a scene where you sing together." Jackie agreed, and the action-comedy suddenly had a musical number.
"On a few days notice, we told everybody we're going to do this and mix it with traditional Chinese-Mongolian instruments," Harlin said. "The hundreds of Mongolian extras knew the song. They were ready to sing. They didn't speak English but they knew the lyrics."
After shooting with magic and sunshine, it was shot, cut, and edited before Harlin and his producers realized there was a problem: They didn't have permission. "We went through the normal channels, and the agent said, 'Absolutely not.'"
A Grammy-decorated pop star, Adele is fiercely protective of her brand and had, so far, only lent her talents to one action hero: James Bond, in 2012's Skyfall. "She's very negative about that kind of exploitation," Harlin explained. "I was devastated. It shows how art and music can bring nations together."
But Harlin refused to give up and set out to London with one goal: Find Adele. Harlin got in touch with a friend embedded in the London music business, who returned with intel days later: Adele's best friend, who gave up the singer's email.
In a heartfelt message, Harlin told Adele what it meant for villagers in a remote part of Asia to sing her blues-inspired Billboard topper. "I said, 'The Mongolians love your music, the Chinese love your music. This is how entertainment can bridge cultures together.'" Harlin attached the scene in the email: Resting after a party, Chan begins a capella before the shudraga (Mongolian banjo) and tuur (drums) kick in. That's when the rest of the village joins, including one talented young woman, to Knoxville's amazement.
"I said, 'Look how happy these people are. We would truly like to use this song in the movie.'" A day later, the director heard back from Adele, who loved it.
"Absolutely, you've got it," she wrote.
While Skiptrace prioritizes fun in the vein of Rush Hour and other popcorn escapism, it's also the kind of easily-translatable entertainment that can cross barriers. Aside from the remix, Skiptrace is the latest in an era where Hollywood feverishly pursues the international box office. Pacific Rim, Iron Man 3, Now You See Me 2, and next year's The Great Wall with Matt Damon are all major Hollywood movies made with foreign audiences in mind.
But motivations aside, all that matters to Harlin is that people are singing.
"What you see in the movie is genuine. It's really people coming together, and music bringing cultures together. Everybody had a great time."
Skiptrace is out now in theaters.