Will 'Now You See Me 2' Work Any Magic in China?
Jon M. Chu's movie about clever magicians foolishly shows its tricks and what Hollywood's future will look like.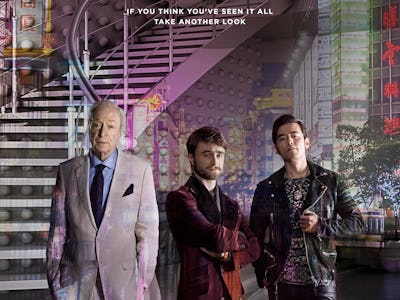 Lionsgate
In the transition from the first act to the second in this weekend's Now You See Me 2, the vigilante magicians the Four Horsemen escape law enforcement by sliding down a chute. They some how land in Macau, the world's gambling capital southwest of Hong Kong. At a fabled magic shop in the city, Taiwanese pop sensation Jay Chou plays a too-cool-for-school trickster who assists without saying much. He's there to be cool — and attract his homegrown audience.
Director Jon M. Chu's follow-up to Louis Letterier's 2013 ensemble summer caper, is even bigger than the first in ways beyond stakes or geographic scope. A true bombastic spectacle that keeps the summer season going, Now You See Me 2 seeks to be a low-key template for how non-adapted blockbusters can attract audiences in China, which is Hollywood's ultimate goal.
The question is whether the approach will work.
Give Chu credit: He incorporates the needed elements pretty breezily. The film effortlessly inserts Chinese locales and supporting characters in a plot. Taking place a year after the original film, the Horsemen — Jesse Eisenberg, Dave Franco, Woody Harrelson, and Lizzy Caplan subbing in for Isla Fisher — reunite with Mark Ruffalo's FBI insider to fulfill another mission from an elusive order of magicians. When their surprise return to the public is thwarted by an unknown enemy, the Horsemen escape and end up in China. They're determined to identify their enemy whilst taking a job from Daniel Radcliffe's Walter Mabry, an affluent tech bro living in exile in Macau.
It's pretty impressive how flawlessly Chu's film heads straight into China and integrates Jay Chou, a major Asian pop and hip-hop star who has a small role in the film. He may not have had much of a character arc, but he did get his own poster. That makes sense: The original did pretty well in China, making $23 million.
It's the bare minimum a Hollywood film can do to appeal to Chinese audiences without putting in all that much effort to authentically include elements from the country's culture. Which brings up another fascinating point: Hollywood's efforts to appeal to Chinese audiences are coinciding with the industry getting pilloried for "whitewashing," or casting roles that should go to Asians with white actors. It's a self-perpetuating cycle; movies don't cast Asian actors because there are few Asian stars. But there never can be Asian stars unless they're in star-making roles. But they aren't, so there are few Asian stars.
Now You See Me 2 is in no way a big role for Chou, and it's been five years since his first shot The Green Hornet (where Chou shined) misfired.
It remains to see if Chinese audiences care about any of that. The top ten grossing films (via Box Office Mojo) feature few Asian performers, and only one with a specifically Chinese actor (San Francisco native B.D. Wong in Jurassic World), but the country is just now emerging as a force. Homegrown movies are starting to have more success there, but for now, Hollywood is betting that Chinese audiences want what Americans also want from blockbusters: Spectacle.