New 'Doctor Who' Spinoff 'Class' Is Way Darker Than We Thought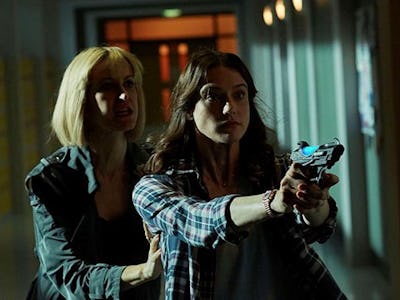 Radio Times
We just got a first look at the new Doctor Who spinoff series, Class, and it's going to be much more hardcore in the scary, violent, alien department than previously believed.
The newly released image features Sophie Hawkins as student April, clutching an alien pistol and backed by Katherine Kelly as teacher Ms. Quill. The two look way freaked out in what appears to be a dark hallway at Coal Hill School, the setting for Class. But, what does April have her weapon trained on? A Dalek? A Cyberman? One of the Weeping Angels?
Instead of the lighthearted fare we were expecting, the show does seem to be taking on the same darker tone as fan-favorite, DW-spinoff Torchwood. As Doctor Who's reigning shadowy stepchild, Torchwood delighted fans with the sexed-up Captain Jack Harkness and brought back beloved characters while having fun interweaving itself with the plot of DW. So, will Class take up that same hardcore torch? (Pun intended.) What's got April and Ms. Quill so freaked out?
If Class pays attention to Doctor Who's wibbly-wobbly timeline, then maybe we could see some familar villians (and heroes) coming through the over-worked boundaries of space-time.
In the meantime, April you've got this! Whatever it is!