'Doctor Who' Might Finally Start Giving Fans What They Want Again
Is Captain Jack coming back? Will the show be super-fun again?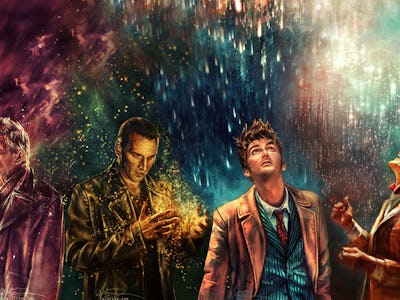 If shooting rumors are to believed, things might be getting fun for Doctor Who again. Maybe, just maybe, this venerable time-travel jamboree is bringing back one of its fan-favorite characters. It's only a rumor, but what we're talking about here is the possibility of the return of the swaggering, omni-sexual leader of Torchwood, Captain Jack Harkness.
This would be huge – because fans of Doctor Who have had a rough time since the finale in 2015. First we learned there would be no new season until 2017, and then Game of Thrones favorite Maisie Williams broke everyone's hearts by saying her Who character Ashildr/Lady Me would definitely not return in future episodes, and then, the show disappeared from Netflix! And while there has been some good news like the addition of new companion Bill played by Pearl Mackie, plus the return of Bridesmaids's Matt Lucas as semi-regular in the next season, none of this would quite match the coolness of Captain Jack coming back.
Quick refresher: back in the 2005-2010 era of Doctor Who (otherwise known as the Cretaceous Period on the internet) the show featured a recurring character named Captain Jack Harkness. He was played by John Barrowman, who is also someone fans of Arrow freak-out about. Captain Jack ended up becoming immortal and the leader of a clandestine alien-hunting organization called Torchwood, which was the premise for a spin-off show, also called Torchwood. Notably, Captain Jack wasn't just bisexual, but omni-sexual, meaning he was cool with getting it on with all genders and alien races. The charming performance from Barrowman cemented his place among the most popular Doctor Who characters of all time, and now there's a glimmer of hope he'll be back.
Because certain filming reports for the 10th season of Doctor Who have placed the production at Cardiff's Millennium Center, the speculation has begun for Captain Jack's return. Back in the 2007 third season of Doctor Who, the Doctor (then David Tennant) refueled the TARDIS for a bit in front of the Millennium Center, only to acquire a stowaway in the form of Captain Jack. This is the spot of the secret Torchwood base! They've got a pterodactyl in there and everything!
Now, with Pearl Mackie and Matt Lucas making announcements from the Millennium Center we could speculate Torchwood, and Captain Jack are totally coming back in this season. Current Doctor Who showrunner Steven Moffat made his writing debut with Doctor Who back in 2005 when Russell T. Davies was still in charge. But, Moffat's very first episodes ("The Empty Child" and "The Doctor Dances") featured the introduction of Captain Jack.
With season 10 being Moffat's swan song season on Doctor Who, wouldn't it make sense he'd revisit his past with the show?
The return of everyone's favorite immortal rogue would give fans exactly what they've been hoping for — Captain Jack back in action, making out with everyone: