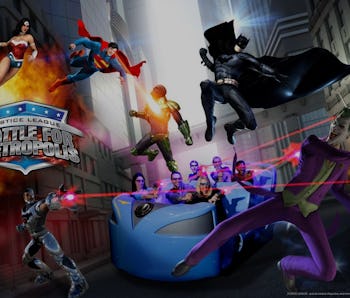 Entertainment
This New Justice League Ride with Harley Quinn Sounds Insane
Six Flags, DC Comics, Warner Bros.
Visitors to California's Six Flags Magic Mountains will finally get a chance to fight alongside the Justice League against villains like the Joker, Lex Luthor, and Harley Quinn in the new ride "Justice League: Battle for Metropolis".
The amusement park, in partnership with Warner Bros., announced that the new Justice League-themed ride will be a state-of-the-art dark ride featuring DC's favorite heroes and villains. Using the first ever virtual 360-degree loops and massive 180-degree screen, attendants will sit in a car, armed with a laser gun, as they rescue the Justice League from DC's most famous villains, including Harley Quinn.
The park is promising the a top-of-the-line dark ride which includes a total 4D experience with practical special effects and HD 3D. The ride promises a total sensory experience which will include wind, fire, fog, and other special effects. Riders will get to experience high-speed chases, a bridge collapse, riding through Green Lantern's power ring construct, and a newly created climactic final battle between Harley Quinn and the riders.
The ride will be located in a brand new Metropolis-theme area that will bring together a few of the other DC themed rides in the park like Riddler's Revenge. "Battle for Metropolis" itself will be housed in a 23,624 square-foot Hall of Justice.
Unlike a roller coaster, a dark ride is typically an indoor ride where riders are guided through lit scenes, or interactive set-pieces. It appears that people who ride "Battle for Metropolis" will be able to use their lasers to shoot at villains, rack up points, and compete with their co-riders.
The timing coincides with Disney's own plans to reinvent their parks with Marvel themed attractions, and Nintendo's partnership with Universal Studios Japan.
"Justice League: Battle for Metropolis" will be introduced in the park's 2017 season.